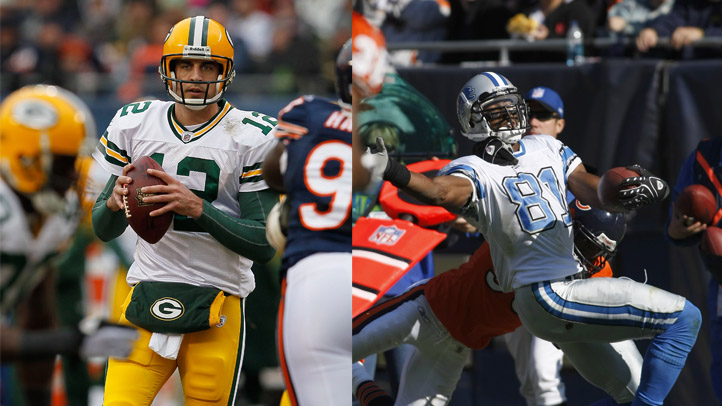 The voters behind the cover for Madden '13 have put us in a pickle, Bears fans.
Voters have put both Green Bay's Aaron Rodgers and Detroit's Calvin Johnson into the final four. Now Bears fans have a tough decision to make. Which man is more deserving of the Madden Curse?

Sadly, both have cut a path of destruction against the Bears in their respective careers.

Aaron Rodgers: In eight games started against the Bears, Rodgers has six wins, 1,976 yards and 15 touchdowns to just five interceptions. His quarterback rating against Chicago is 102.6. Though he's had a few bad games against the Bears, like the playoff game where he threw two interceptions, he's generally a thorn in Chicago's side. There is no sign coming from the cheeselands that he will slow down, meaning he will give the Bears nightmares for years to come.

Calvin Johnson: Ugh. Johnson has done some ugly things to Chicago during his five seasons in Detroit. In nine games against the Bears, Johnson has 45 catches for 695 yards and four touchdowns. (Five if you considered the disputed end zone call at the end of the 2010 season opener a touchdown.) What's more worrisome with Johnson is his unlimited potential to terrorize Bears' secondaries. He signed a 7-year deal with the Lions last month. It's the equivalent of the Bears defense running into a mirror to break it.

Which player would you like to receive the Madden Curse? (To be clear, Grizzly Detail does not hope any harm befalls Rodgers or Johnson. An inexplicable bad year, like Drew Brees had after making the cover, or a complete loss of interest in the game, as happened to Peyton Hillis, is preferable.) Make your choice, then vote for Rodgers or Johnson here.
Copyright FREEL - NBC Local Media