There's a story on the Hawks main page today about the tireless work center Dave Bolland has put in at the gym here in Chicago.
Bolland is the only Hawk who remained in town all summer -- most likely upon fiance's orders -- and thus has gotten the brunt of it from Hawks Strength and Conditioning Coach Paul Goodman, who sounds like a total nutcase, in the nicest sense of the word.
This is good news in that A) Bolland didn't suffer any setbacks from his recovery from a concussion while working out -- something Penguins fans wish Sidney Crosby could say -- and B) that someone who had back surgery about two years ago is taking his physical health seriously.
This wasn't always the case with Bolland. There was a story on the Hawks site not so long ago about different players' pregame rituals. Some talked about how they played soccer to loosen up, or the sprints they would run and the stretches they did. Multiple players marveled at how Bolland could just show up and skate and play without doing anything.
There were also whispers, never confirmed, that Bolland couldn't tell you where the gym was. Thankfully, if ever that were the truth, it's changed now. Back surgery probably did that for him, as you can't just continue on as normal after something so traumatic.
Hawks need Bolland to be everything he's promised to be this year, and better conditioning can only help. While he gets a lot of pub about his shutdown abilities and his tendency to drive opponents' best players into madness, there's so much more to Bolland's game. He's got a wicked shot with a quick release, underrated vision especially when below the goal line, and great offensive sense.
He's more than a defensive stalwart. While his shackling of the Sedins, Joe Thornton, and Mike Richards got the attention during the Cup run, his 16 points in 22 games were no less important. That kind of pace over a regular season comes out to 60 points, which is where Bolland needs to be, and should be.
What makes him so unique is not just his ability to quiet out another team's star, but his ability to score while doing it. With the Hawk second-line center still murky -- we don't know if it'll be Marcus Kruger or Patrick Sharp, and we don't know if Patrick Sharp will have any interest in being an actual center -- the Hawks need Bolland to find the offensive game that's been sitting there, in the waiting room, being a patient boy. Sounds like he's dedicated to calling it into the office.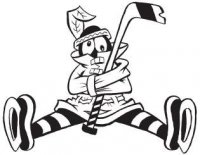 Sam Fels is the proprietor of The Committed Indian, an unofficial program for the Blackhawks. You may have seen him hocking the magazine outside the United Center at Gate 3. The program is also available for purchase online. Fels is a lifelong 'Hawks fan and he also writes for Second City Hockey .