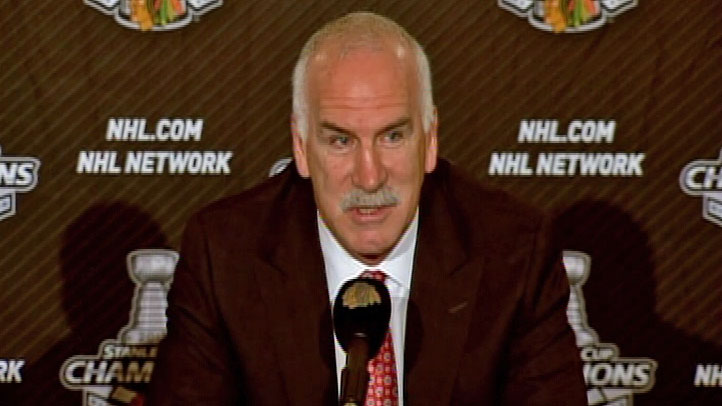 The Chicago Blackhawks slipped back into third place in the Central Division on Wednesday night, dropping a tough 3-2 decision to the Colorado Avalanche at the Pepsi Center in Denver.
The Hawks' energy was good through most of the night as they racked up 39 shots on goal, but they just so happened to be bested once again by Semyon Varlamov, who has beaten them four different times this season.
Before the puck even dropped on the game however, Blackhawks head coach Joel Quenneville made a head-scratching decision. Despite the fact that the team is only carrying 12 healthy forwards with Marian Hossa out of commission, Quenneville decided to scratch Peter Regin and instead inserted Sheldon Brookbank into the lineup as a forward.
Aside from getting into a fight in the game, Brookbank did nothing of note in his 4:33 of ice time in the game, and his presence meant that players like Patrick Kane and Jonathan Toews had to do a lot of double-shifting in the game to make up the difference. Both players were well over 20 minutes on the evening, and in the harsh altitudes of Colorado, that kind of extra playing time can be especially draining.
When asked after the game why he had inserted Brookbank into the lineup, Quenneville uttered one of the most confusing and disappointing statements that he has said in his time as the head coach of the team:
#Blackhawks coach Joel Quenneville on playing Sheldon Brookbank at wing: "It gives us some energy. Gives us an extra defenseman in case." — Chris Kuc (@ChrisKuc) March 13, 2014
We'll get to the main bone of contention in a moment, but if Quenneville is really worried about needing an extra defenseman (which he may have been concerned about because of Niklas Hjalmarsson nursing some wounds), then why didn't he just scratch Hjalmarsson and start either David Rundblad or Brookbank on the blue line? Carrying seven defensemen as an insurance policy is a total waste of a lineup spot even on its own merit.
What's even more troubling is Quenneville's assertion that he put Brookbank into the lineup for "energy" purposes. When a team is going up against a squad like the Avalanche that have no problem engaging in a track-meet style of play, flying up and down the ice, then it makes absolutely no sense to force your team to fight with one hand tied behind its collective back by double-shifting forwards and ensuring that everyone is gassed by the end of the evening.
Even if Quenneville somehow believes this nonsense about Brookbank bringing "energy" to the lineup, then his actions don't back up his words at all. If Brookbank is such a big "energy" guy, then why did he only play for less than five minutes in this game? Shouldn't he have been on the ice more often, stirring his teammates into bigger and better things, rather than sitting on the bench and walking guys like Kane and Toews rack up the miles?
If Quenneville is serious about actually injecting some energy into this team, then he should have kept his lines exactly the way they were. Yes, the Bickell-Regin-Versteeg line isn't the most talented on the team, but at the very least, it can allow the Hawks to roll four lines in a game where keeping fresh bodies on the ice is critical to success. Instead, the Hawks were forced to jumble up lines on the fly because they only had 11 forwards that Quenneville could trust to skate at a given time, and that put them at a decided disadvantage against an Avalanche team that is proving to be adept at beating the Blackhawks.
Quenneville needs to seriously rethink his belief system if it genuinely tells him that Brookbank adds anything to the game as a forward. He is a massive liability when he is in the lineup among the forward group, and putting him out there instead of a guy like Regin, who can play both center and wing, is the equivalent of waving a white flag of surrender, not inspiring your troops onward.
The Hawks coach may have two more Stanley Cup rings on his fingers than any of his critics, but he did not get them by making incredibly bad decisions like this.