When I last left you, and I die a little every time I leave you, there were only reports that the Hawks had re-signed Michael Frolik and brought in Sami Lepisto. Those turned out to be official, and it now looks as if this is the roster the Hawks will take into training camp.
As a result of the trades, Chris Campoli was given a Dear John and will be headed elsewhere, regardless of what happens with his arbitration hearing. What's likely is that other teams wait that out, let the Hawks walk from the result, and then try and sign Campoli when he becomes an unrestricted free agent. After all, why give up any asset when you can just get him for free with patience?
Campoli was a nice player, but not a game-breaker. And while he would have taken pressure off Nick Leddy to help fill the shoes of the cast-off Brian Campbell, Sami Lepisto can do that as well. And if it's true that Campoli was asking for the moon, and very likely to get awarded it in a hearing, he's not a player worth fustigating your cap space over.
The Lepisto signing could prove to be the shrewdest of the bunch. The numbers won't impress you, but there are other factors. Two years ago, Lepisto was having a very solid season that had Phoenix fans, if they exist, cooing. He allowed Keith Yandle to develop into what he is today. Lepisto has been on two teams, Phoenix and Columbus, that keep their d-men under wraps. He won't have that problem here, and you could suspect that Stan Bowman thinks there's a lot to be drawn out from Lepisto's game that we haven't seen. And at $750k, that's a steal.
We know the goalies -- Corey Crawford and Alex Salak -- and the defensive unit is set. Duncan Keith, Brent Seabrook, Nick Leddy, Niklas Hjalmarsson, Steve Montador, Lepisto, Sean O'Donnell, and if a case of the clap strikes everyone, John Scott is there. It's a very deep unit, the Hawks can roll three pairs for games if they so choose. It also means that Leddy will have to earn his time, as Lepisto can easily step up, as can Montador.
The forwards still have to shake themselves out. There's a hole in the top two lines, ones that either Marcus Kruger or Jeremy Morin will get every chance to fill. The Hawks have over $3 million in cap space to make a move if need be.
Enjoy these last six weeks, but this will be a team to get excited about.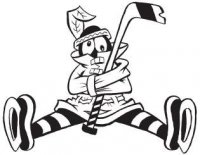 Sam Fels is the proprietor of The Committed Indian, an unofficial program for the Blackhawks. You may have seen him hocking the magazine outside the United Center at Gate 3. The program is also available for purchase online. Fels is a lifelong 'Hawks fan and he also writes for Second City Hockey .