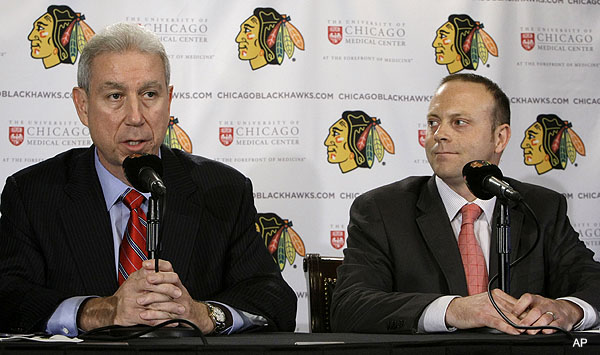 He'll wear #16, and no, he won't have claws coming from one of his gloves, sadly.
Marcus Krüger, the 'Hawks 5th round pick three years ago and probably leading center prospect, skated with his new teammates for the first time since training camp this morning, and all indications are that 24 hours after a trans-Atlantic flight he's going to make his NHL debut cetering the 'Hawks third line. While the 'Hawks haven't come out and said he's a savior, they aren't doing a lot to tamp down that sort of dialog either.
As I've said earlier, I only saw brief glimpses of Krüger in training camp, and he didn't make that much of an impression in the preseason games he did partake in. However, the brass was impressed enough to try and convince him to stay. While i haven't hesitated to criticize Stan Bowman about his oil tanker-like steering of this team, this is the one area he seems to get right. He kept Jeremy Morin around and didn't send him back to junior, and he certainly looked the part before contract concerns kicked in. He'll certainly be here next season. Bowman was also convinced Nick Leddy deserved to be here, and while it's been rocky, he is improving every game. So I'll give Krüger a chance, and will have to because the Hawks need him.
At the morning skate he was centering the third line between Troy Brouwer and Bryan Bickell. If there's one thing he can do from the start, is try and exhume the corpse of Troy Brouwer. T-Brouw is a 25-goal scorer who's been shackled by subpar linemates the past month. Jake Dowell couldn't get him the puck, he probably couldn't get him the hot sauce from the postgame spread. Brouwer is not the type of player to create his own offense. He can crash and bang and cause turnovers, but he needs someone to feed him once he gets to areas to score. Krüger is said to have that exact ability, let's hope it works out. His totals in Sweden are assist-heavy, quite so, he obviously is always looking to pass first.
But there is one facet of this I can't get behind. Stan Bowman was quoted today as saying that bringing Krüger was always the plan, even if Bolland and Sharp weren't hurt. But that doesn't hold up. Krüger's Swedish team was eliminated from their playoffs just on Sunday in a Game 7. What if they had advanced? Would the Hawks bring him over for just the playoffs? Would they have made him break his Swedish contract which I'm not sure they could even do? It doesn't hold water, and there really would have been nothing wrong with saying we're short at center right now, and we need him. But once again they're trying to convince me of the throbbing, impossible to comprehend brain of Stan Bowman. But I ain't buyin'.