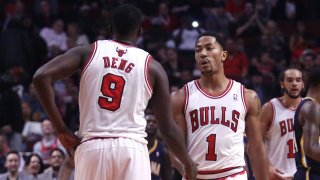 Podcast: Deng on Bulls memories, South Sudan basketball originally appeared on NBC Sports Chicago
Luol Deng is one of the most respected Bulls in franchise history and if you didn't believe that, just wait until you listen to this interview. Deng joins K.C. Johnson to discuss him expanding and growing the game of basketball in South Sudan as president of the South Sudan Basketball Federation. They also discuss some never-before-heard stories and memories from Luol's time with the Bulls, including his relationships with Derrick Rose, Joakim Noah, and Tom Thibodeau.
(2:20) - Life after retiring from the NBA and becoming president of the South Sudan Basketball Federation
(10:40) - Luol on qualifying for the AfroBasket tournament in August in Rwanda
(15:00) - Luol discusses the coaches that had the most influence on him
(22:40) - Deng's relationship with Joakim Noah and retiring as a Bull
(29:10) - The Rose MVP year: "Derrick is one of my favorite human beings"
(33:40) - Does Luol hear "ICE" when he sleeps due to playing for Tom Thibodeau
Listen here or via the embedded below:
Bulls Talk Podcast
Subscribe:
Copyright RSN