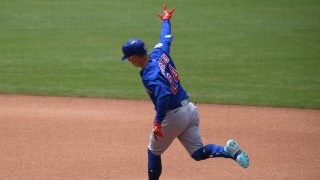 Pederson takes inspiration from Tatis with HR celebration originally appeared on NBC Sports Chicago
Padres shortstop Fernando Tatis Jr. has become a fan favorite league-wide for his electric play and the energy he brings to the baseball diamond.
Tatis' flair isn't lost on fellow players, either. 
In Wednesday's game against the Padres, Cubs outfielder Joc Pederson hit a solo home run off San Diego ace Yu Darvish to tie things at 1. As Pederson neared third base in his home run trot, he broke out one of Tatis' famous moves: the stutter-step.
For comparison, here's Tatis pulling off the celebration earlier this month.
This isn't the first time Pederson broke out the stutter-step — he did so after home runs vs. the Giants on Thursday and Friday. It's also not a coincidence, but a nod to the San Diego shortstop.
"I see Tatis — he has a lot of homers, he's done it," Pederson said after Wednesday's Cubs win over San Diego. "He's having fun out there. He's got some of the most swag in the game.
"Our team's just having fun. It kind of just happened in San Francisco," Pederson added. "I don't know, I just kept it going. If I keep hitting homers, I'm going to keep doing it."
Imitation is the most sincere form of flattery, after all.
Copyright RSN