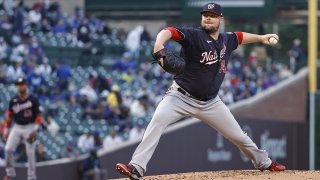 Lester details why he didn't salute Cubs fans at end of start originally appeared on NBC Sports Chicago
The opportunity was there for Jon Lester.
Lester exited Monday's start, his first at Wrigley Field since leaving the Cubs as a free agent last offseason, after 5 1/3 innings. 
Lester, after an unceremonious final home start in 2020 due to COVID-19, had the opportunity to salute Cubs fans during a standing ovation, something that escaped him last September.
The veteran chose not to, but not because the support was unappreciated. 
"Yeah, I mean, that's a tough one," Lester said. "You have to also realize that I'm a National and I'm playing for these guys. 
"I do appreciate it as a person and as an individual. But I didn't pitch great."
Lester allowed five runs on eight hits in those 5 1/3 innings Monday, including three home runs to former battery mate Willson Contreras, and Jason Heyward and Javy Báez.
"I didn't pitch terrible, I don't think, but I can't be tipping my hat walking off the field like that being down 5-3 at that particular moment again," he said. 
"Is it appreciated? 100 percent. It's a great moment, but I can't do that being in the situation I'm in."
Lester called the lack of fans "the most frustrating part" of that September night last season. Six years before that, the Red Sox shipped him to the A's in a 2014 trade deadline move, not giving him a chance to salute the Red Sox faithful before becoming a free agent that winter.
Salute or no salute, Lester assured Cubs fans that the multiple ovations they gave him — taking the mound, in the batter's box and leaving the game — didn't go unnoticed.
"I was just happy to be here and have fans in the seats and be able to see them and experience that," he said. "You never know. It may be the last time, may not. 
"We'll cross that bridge when we get there. It was just nice to come back and do that."
Copyright RSN