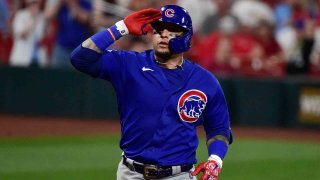 Báez likely out of lineup until weekend originally appeared on NBC Sports Chicago
SAN DIEGO — The Cubs aren't ruling out a return of shortstop Javy Báez to the lineup for Wednesday's series finale against the Padres and former teammate Yu Darvish.
But the likeliest scenario has him returning sometime after Thursday's off day during the weekend series against the Cardinals at Wrigley Field.
Báez hasn't played since exiting Sunday's win in San Francisco in the seventh inning after jamming his thumb during his at-bat in top half of the inning.
"I just want to make sure it's 100 percent," Cubs manager David Ross said before Tuesday night's game in San Diego. "It's something that you get one ball in and you pull your hands in and jam it again. He still feels it a little bit."
Ross said Báez can handle playing in the field and running the bases, but he was awaiting word from the trainers how how Báez felt taking swings in the cage before considering his starting status.
"There's also an off day coming up, and in the back of my mind, do we really need to push something if it's bad?" Ross said. "But I want him in there if he's fine. He'll tell me.
"I don't think it's out of the question that he's in there [Wednesday]," he added, "but I'm not going to push him."
Copyright RSN