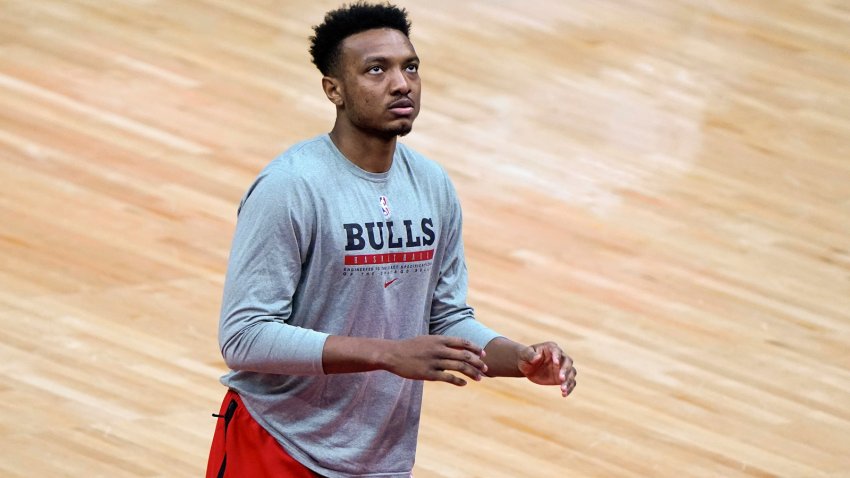 Wendell Carter Jr. doubtful vs. Hornets with thigh contusion originally appeared on NBC Sports Chicago
Bulls coach Billy Donovan described Wendell Carter Jr. (thigh contusion) as "doubtful" for the team's Friday matchup with the Hornets.
Carter exited Wednesday's practice with the injury, and did not participate on Thursday before the team jetted to Charlotte. He said he suffered it on a collision with Denzel Valentine while running 5-on-5.
"Just a freak accident," Carter said Thursday. "It felt really bad when it first happened. I didn't know what was when I got on the training table. I took a couple painkillers and it kind of went away, the pain kind of settled down a little bit. But it's doing good. I think I'm trending in the right direction."
Carter's day Thursday consisted of strength work on the ailing quad. He'll travel with the Bulls to Charlotte, but his status remains up in the air.
"I'm going to travel with the team, be there for the team. I'm going to do all I can to get it to feel as good as I can, try and get out there," he said. "But I'm not going to force it and hurt my team."
"There's a chance he could play, but we'll have to wait and see how he feels tomorrow," Donovan added.
The development comes at an unfortunate time for Carter, who was finding his footing in new roles at both ends of the floor of late. Dating back to the first game of the Bulls' recent West Coast road swing, he's posted seven consecutive double-figure scoring outputs, averaging 13.9 points, 8.3 rebounds, 2.6 assists, 1 steal and 0.7 blocks over the span while attempting 5 free throws per game.
It's also another injury to add to a lengthy history in Carter's young career.
"It's a thin line between the two in my opinion," Carter said on balancing his desire to return soon with potentially over-extending himself. "I feel like when I come back from this injury it's not going to be 100 percent for sure. But at the same time I've got to understand that I don't want to go out there and not be able to give my all for the team, not be able to give my all for myself too.
"I don't want to create a bad reputation for myself or for my team, especially right now with us not playing as well on the defensive end. I don't want to go out there and be a step or two too slow, give up easy buckets to the other team. So there's definitely a thin line. If it was up to me, I would want to get back out there whatever it took, but at the same time I understand things happen in basketball. Everything happens for a reason, that's what I believe. So I feel like everything is going to work out.''
Patrick Williams, who was a limited participant in Wednesday practice, was back in full today. So, too, was Garrett Temple, who Donovan revealed didn't practice Wednesday -- likely a mitigatory measure after mildly spraining his ankle in the team's Jan. 10 loss to the Clippers. Adam Mokoka is in concussion protocol.
Click here to subscribe to the Bulls Talk Podcast for free.
Copyright RSN