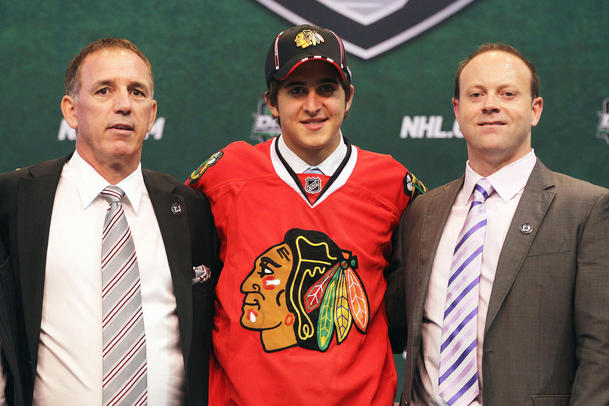 In late 2011, NBC Sports Network began airing a show it called "NHL 36." In that debut episode, Chicago Blackhawks winger Patrick Kane took fans through 36 hours of his life, including on-ice audio and film from a game the Hawks played against the Phoenix Coyotes.
Ever since then, NBCSN has expanded the concept to both the IndyCar Series and to fighters preparing for big bouts, but the series is apparently going to return to its roots in hockey, according to the Chicago Tribune's Chris Kuc:
Mini-scoop while taking day off: Tomorrow through Saturday the NHL Network to film #Blackhawks' front office for NHL 36 documentary episode. — Chris Kuc (@ChrisKuc) April 18, 2013
While the idea of an inside look at the Blackhawks organization sounds like it would be an interesting one, this time of year probably isn't going to be all that rife with intrigue. Decisions right now are likely predicated solely on who to bring up for the stretch run, and while there could potentially be some NHL Entry Draft preparation going on, the real juicy stuff like trades and negotiating contracts is currently off the table.
Even still, NBCSN wouldn't be filming something if it didn't have the potential to be an interesting viewing experience, so it's probably better not to pass judgment before we see the footage at an unannounced future date.
In the meantime, here is the debut episode of the show, featuring Kane: