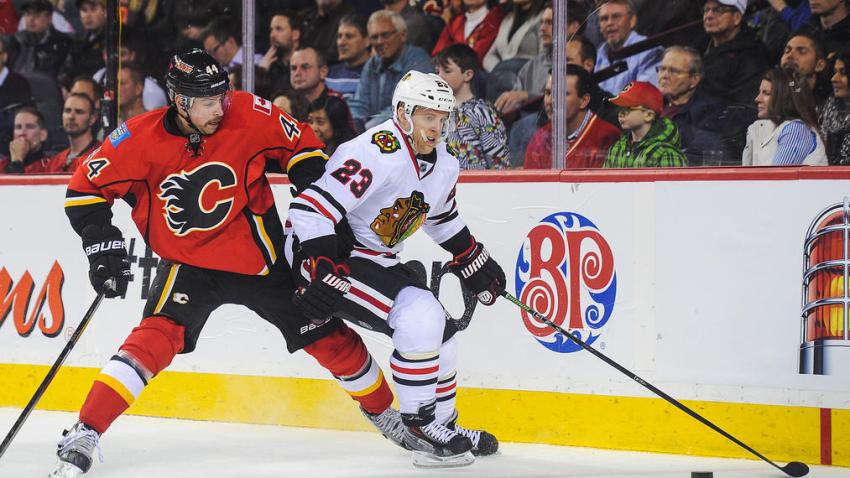 The Chicago Blackhawks have had very little success this season against the Colorado Avalanche, and that trend continued on Wednesday night as they dropped a tough 3-2 game in Denver.
The loss not only was the fourth in five games for the Blackhawks against the Avalanche, but it also dropped the Hawks back to third place in the Central Division. The loss also means that the Blackhawks are a combined 1-4-3 in eight games against the Avalanche and St. Louis Blues this season, and are currently staring a first round matchup with one of those two teams right in the face.
Under the NHL's new playoff format, the seedings for the playoffs work like this:
-The top seed in the Pacific and Central Divisions play the two wild card winners, which can come from either division. As of right now, those two wild card spots belong to the Minnesota Wild and Dallas Stars, with the Phoenix Coyotes just one point behind the Stars. If the playoffs were to begin today, the Blues would get the top seed overall in the playoffs, and would play the Stars. The Anaheim Ducks would win the Pacific Division, and would play against the Wild.
-For the Blackhawks' playoff seeding, the other part of the playoff seeding format comes into effect. The second and third place teams in a division will play each other in the first round of the playoffs. In the event the playoffs started today, not only would the Blackhawks have to play the Avalanche team that has beaten them four times this season, but they would also not have the benefit of home ice advantage, and would have to travel to Denver for the first two games of the series.
Many fans are dismissive of that possibility, saying that even if the Avalanche were to finish ahead of the Blackhawks in the division that the Hawks would still have the edge thanks to their years of playoff experience. The truth of the matter is that the Avalanche have proven beyond a shadow of a doubt that they aren't some fluke team this season, and their effective mix of goaltending, speed, and physicality is something that no team wants to face in the first round of the playoffs.
The question then is whether or not the Blackhawks need to make a full-blown effort to seize the top spot in the Central Division back to avoid a matchup with the Avalanche or Blues in the first round of the playoffs. Yes, teams have to play talented opposition in the Stanley Cup playoffs, but with how badly the Hawks have fared against the Blues and Avalanche this season, it would make sense for head coach Joel Quenneville and the Hawks to push as hard as possible in the season's final 16 games.