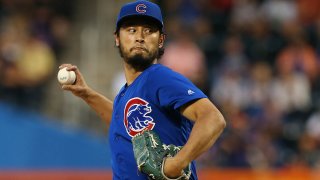 Chicago Cubs pitcher Yu Darvish received three first-place votes and finished in second in National League Cy Young Award voting, with Cincinnati Reds hurler Trevor Bauer taking home the coveted prize Wednesday.
Darvish, one of three finalists for the trophy, finished in second place for the second time in his career, as he was also the runner-up in the 2013 AL Cy Young Award voting.
Darvish received 24 of the 30 second-place votes from the Baseball Writers Association of America. Darvish won three first-place votes, with Bauer taking home the other 27.
New York Mets pitcher Jacob deGrom finished in third in the balloting.
In 12 starts for the Cubs during the shortened season, Darvish posted an 8-3 record and a 2.01 ERA for the North Siders. He struck out 93 batters and walked just 14, putting together one of the best seasons of his career as the Cubs reached the National League playoffs.
Bauer posted a 5-4 record and a league-leading 1.73 ERA in 11 starts for the Reds. He racked up an impressive 100 strikeouts in 73 innings of work.
In capturing the trophy, Bauer is the first Reds pitcher to ever win the Cy Young Award.
DeGrom posted a 4-2 record and a 2.38 ERA in 12 starts, striking out a league-leading 104 batters and walking 18 in 68 innings of work.
DeGrom has finished in the top-ten in Cy Young voting each of the last four seasons, including 2020, and won the prize in 2018 and 2019.