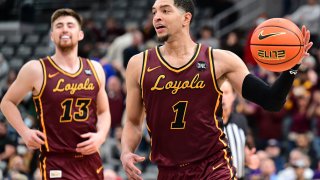 After a couple of first-day shockers, Day 2 of the NCAA Tournament's first round features a dangerous double-digit seed with Loyola-Chicago matched against an Ohio State team that surely hasn't forgotten its overtime loss to a No. 15 Oral Roberts in last year's tournament opener.
The seventh-seeded Buckeyes are not trending in a good direction, coming in with losses in four of their last five. A couple of those were stinkers, too — one at home against Nebraska and one to Penn State in the first round of the Big Ten Tournament.
No. 10 seed Loyola is a program that knows how to win this time of year, and it never hurts to have Sister Jean on your side. Yes, the 102-year-old superfan and team chaplain traveled to Pittsburgh with the Ramblers.
This is the third tournament appearance in five years for Loyola. There was the Final Four run in 2018, and last year the Ramblers knocked off Illinois to reach the Sweet 16.
The oddsmakers certainly don't forecast a blowout in this Missouri Valley Conference vs. Big Ten matchup. The Buckeyes are just a one-point favorite, according to FanDuel Sportsbook.
Copyright AP - Associated Press