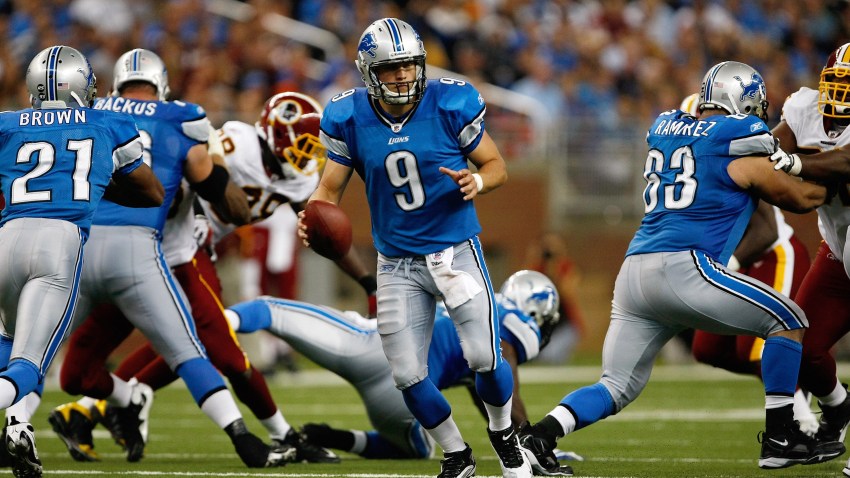 After three weeks, the Bears find themselves in pretty good position. They haven't played the best football at times, but they're 2-1. Things could be a lot, lot worse.
Like, 0-3 worse.

Which is why it's sometimes so very nice to play in the NFC North. Because then you get to play the Detroit Lions!
Easy win, right? 3-1! And then the Bears have their bye week and then it's off to the races for the playoffs, right? Right?

Without giving these Lions too much credit, no.
Sunday won't be the Bears' toughest game of the year, but it has every chance to be just as tough as Sunday's win over the Seahawks. These Lions aren't good, but they aren't guaranteed to lose, either.

In 2008, they were. That's when the Lions turned in their infamous 0-16 record, the product of poor talent, bad coaching, and a variety of unfortunate luck that can dispatch teams into the depths of historical putridity.
The 2009 Lions are better than their predecessors -- they have more offensive talent, more intelligence, and a defense that won't yield so easily to the Bears' questionable offensive line.

The offense is looking especially dangerous. Calvin Johnson is the kind of receiver who can score regardless of who's throwing him the ball. Matt Stafford, the team's No. 1 overall pick, has been inconsistent thus far, but his play is improving. At the very least, he appears capable. And given tailback Kevin Smith -- one of Detroit's few bright spots from 2008 -- this is a team that can score.

In other words, while the Bears have every right to expect to win, a down-to-the-wire victory over a team missing eight of its starters (the Seahawks) doesn't exactly bode well for a blowout.
Anything can happen in the NFL on any given Sunday. If the Bears relax too much this week, they could learn the timeless lesson all over again.

Eamonn Brennan is a Chicago-based writer, editor and blogger. You can also read him at Yahoo! Sports, Mouthpiece Sports Blog, and Inside The Hall, or at his personal site, eamonnbrennan.com. Follow him on Twitter.
Copyright FREEL - NBC Local Media