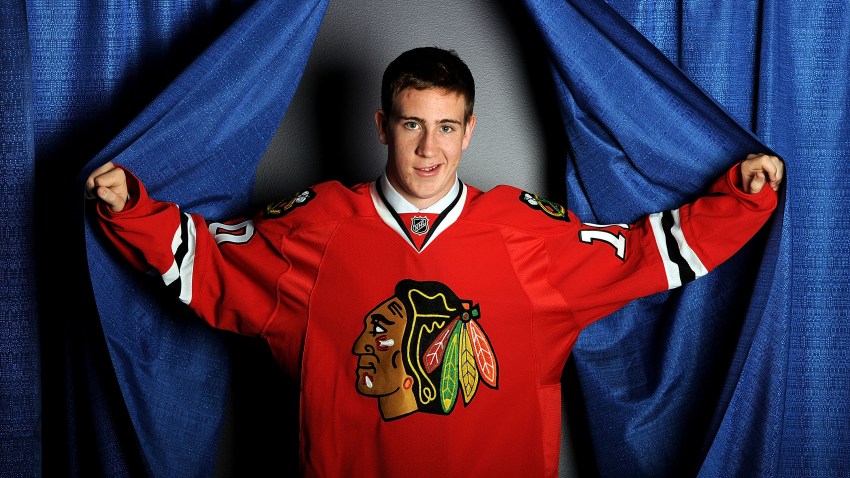 The Chicago Blackhawks have plenty of talented prospects in their minor league system, but if things don't take a dramatic turn in the next three weeks or so, they could end up losing one of them to free agency.
That's because Kevin Hayes, who was a nominee for the Hobey Baker Award in the 2013-14 season at Boston College, is likely to opt not to sign a contract with the Blackhawks before August 15. If he doesn't sign a deal, he would become a free agent, and the Blackhawks would be awarded a second round pick as compensation for his departure.
Here's what Robert Murray, Hayes' agent, had to say to ESPN Chicago's Scott Powers about the situation:
"We're likely going to wait until August 16 and see where things are at that point. It's absolutely nothing against the Blackhawks. We just feel this gives Kevin some options….After his college career, he had a chance to step back and look at everything."
The Blackhawks drafted Hayes in the first round of the 2010 NHL Entry Draft, and since then, he has become one of the top collegiate players in the country. His senior season was especially epic, with 27 goals and 38 assists to his credit as he racked up the second-most points of any player in the nation. Despite that success, Hayes seems content to explore the market instead of staying on with Chicago.
There are several ways that Hawks fans can look at Hayes' decision. The first is that he is eager to prove himself at the NHL level, and so he's going to look for an opportunity to jump to a team like the Florida Panthers (where his brother Jimmy plays after being traded there by the Blackhawks in November 2013) or the Nashville Predators.
A more cynical approach would be to say that Hayes doesn't seem to think that he should have to pay his dues in the minors before getting to the NHL, and his impatience is leading him to a selfish decision. Yet another option is that Hayes is opting to leave the Hawks because of the way they treated his brother, not giving him many chances with the big club before shipping him off.
Whichever way fans tend to look at this situation, there is one thing for certain: unless a miracle happens in the next few weeks, Hayes won't be donning a Blackhawks uniform when he makes his NHL debut, and that would be a rare miss for a team that's been churning out quality youngsters for a few years now.