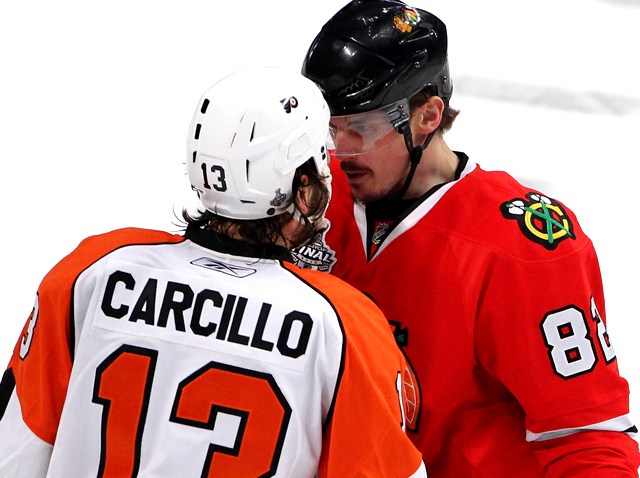 That's kind of the story of practice today. With his suspension now over, Dan Carcillo looks like he might re-enter the Hawks lineup not on the fourth line, but on Patrick Kane's and Marian Hossa's left wing. This isn't at dolt-ish as it sounds, as Carcillo would pop up on the higher lines of the Flyers from time to time. With Viktor Stalberg and Ben Smith still out of the lineup, and Brandon Saad and Marcus Kruger unable to be trusted with anything other than limited fourth line minutes, this is just about the only place Carcillo can go. Might only last a period, with Saad moving up when Coach Quenneville gets the Lineup Snow Globe out again, but it's how it looked in practice today.
Could it work? Maybe. When he's not on "tilt", Carcillo can play a little bit. He's got some decent hands for a nutcase, and is probably able to keep up with play a little more than Andrew Brunette was on this line. What worries you is that when Carcillo starts his Cirque de Moron act -- and it's when, not if -- do you really want Kane and Hossa to have to enter the scraps that are certain to follow? On the other side of the coin, if Carcillo can keep his brain somewhat within his skull and focus on his forechecking, he can cause the type of pressure that Hossa and Kane would absolutely feast off of. On the other...well, coins don't have three sides, but another thing to consider is the defensive limitations of this line. Hossa is a wonderful two-way player. But Carcillo isn't, and Kane is only somewhat effective in his own zone and that's determined by his interest. The roof could cave in on this trio at times. Though probably not against the decidedly punchless Winnipeg Jets, who are in Thursday.
-Other story out of practice was that Corey Crawford was....out of practice. This is the second straight day that this has happened, and no one's buying the standard Blackhawks excuse of "maintenance day". We know Crow had some issues with his groin in the preseason, and we'd have to guess this is what it is again. It wouldn't be the worst outcome to get Ray Emery a start early to keep him from going stale, and you shouldn't need a standout goalie performance to glean two points from the Jets. Still, it's worrying that Crawford has the engine light on so early in the season.