I'll admit it, and you should too. There's a large part of us that will be happy when it's all over.
Going to Sunday night's game was like going to see a sick relative. You wanted to see signs of they'd pull through, and you had your hopes. But you left knowing what was coming, and you were consoling yourself that both you and that relative would soon have the relief of not seeing the struggle any more.
And the Hawks are, in hockey terms, that sickly. Watching them in person last night, you can clearly see Jonathan Toews is hurt. He doesn't have nearly the strength on the puck that's come to define his career. Patrick Sharp doesn't have the burst that makes his game what it is. He's trying, so's Toews, but when they reach down there's nothing there. Marian Hossa? Just looks gassed. That's hard to say when he's missed a fair chunk of the season, but this is a 32-year old who's made three consecutive trips to the Finals, meaning three straight years of 100 games or so. Patrick Kane was out there for 26 minutes, but he can't do it alone.
Brian Campbell has one foot. It's so obvious now how much that other one is dead because of the amount of footraces he's losing that he'd normally ghost through. Duncan Keith and Niklas Hjalmarsson are playing as if they have PTD. The hockey season is long enough that it doesn't lie. This is what you are. And the Canucks are just better. Sure, if the Hawks could have gathered that one point on the last day, they could have put this off until the second round maybe. And maybe Dave Bolland would have been back by then. But would it have been enough? Probably not.
Last night's loss was the perfect illustration of all that's gone wrong this season. Bad managing, bad coaching, bad playing from those the Hawks can least afford it from. Bad managing in that John Scott was even on the roster to be selected, bad coaching that he was and insulting coaching that he came out on the power play. Came back to change the game when the dunderhead took a dumb, offensive zone penalty that the Canucks gleefully cashed in on in seven seconds. Bad managing that Nick Leddy is being forced into a situation he hasn't been ready for all year, and he became a pylon on the second goal as Alex Edler walked right around him. Bad playing in that whole play started with an abomination of a turnover from Duncan Keith.
And when they needed to be saved, the players who do that sort of thing just didn't have it in them this time. And now we all stare straight into the abyss.
I can't wait to jump into it. This team hasn't been fun to watch, or follow, or comment on. And they need the long break, to see how not playing in the big games feel for the first time in three years. To see how a disappointing end to a season claws at you, which they really haven't had in four years. Spend the summer seething about what they threw away with all the nights off they took against the dregs of the league during the season. And watch them come back next fall with a new appreciation for what they had, and a frothing determination to get it back.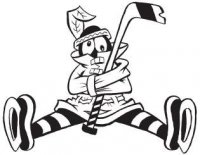 Sam Fels is the proprietor of The Committed Indian, an unofficial program for the Blackhawks. You may have seen him hocking the magazine outside the United Center at Gate 3. The program is also available for purchase online. Fels is a lifelong 'Hawks fan and he also writes for Second City Hockey .