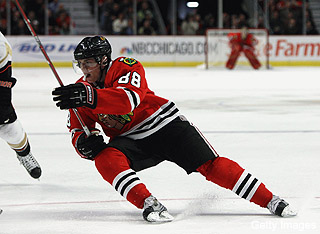 Last night, the Blackhawks won 7-1. A hockey game. They won a hockey game 7-1.

This win didn't come over the dregs of the NHL, either -- it was a 7-1 win over the Calgary Flames, a good team with a star in Jerome Iginla and a quality defensive line headed up by Dion Phaneuf. For whatever reason, the Blackhawks own these Flames. But it's not as if they fare much worse against the rest of the league, either. The Hawks are 13-5-2 overall after last night's win, the third best record in hockey.

Long story short? The Hawks rule Chicago.

Be thankful. If it weren't for the Blackhawks, and their resurgent young franchise filled with enjoyable players and big name stars, what would we have? The Bears? Oof. The Bulls? Eh. The Cubs and White Sox? Don't even get us started.
The Blackhawks seem capable of proving over and over again -- whether via 7-1 wins or not -- they're the best show in the city. They're not only effective but extremely entertaining to watch, too; they fly around the ice and play the boards better than anyone in the league. They're always attacking. Not only is it good hockey, but it's fun hockey.

Which is why, at least for now, the rest of our fine city's sports franchises need to turn toward Rocky Wirtz, John McDonough, Scotty Bowman and those players and take a nice, deep bow. Thank you, Blackhawks, for making this impending winter bearable. We totally owe you one.

Eamonn Brennan is a Chicago-based writer, editor and blogger. He is the editor of Yahoo! Sports's college basketball blog The Dagger and a contributor to Inside The Hall. Follow him at his personal site, eamonnbrennan.com, or on Twitter.
Copyright FREEL - NBC Local Media