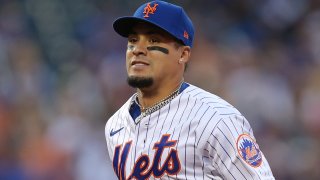 Báez follows Rizzo, hits home run in 1st game post-trade originally appeared on NBC Sports Chicago
Former members of the Cubs core are wasting no time making an impact with their new teams.
Javy Báez made his Mets debut Saturday after the Cubs traded him to New York on Friday. In his third at-bat, he did something Cubs fans had seen countless times, crushing a home run to left field.
Welcome to New York, indeed.
Báez follows Anthony Rizzo in hitting a home run in his first game after leaving the Cubs. Rizzo went deep in his Yankees debut Friday and added a second home run Saturday.
Kris Bryant is expected to debut with the Giants Sunday. Your move, Kris.
Copyright RSN