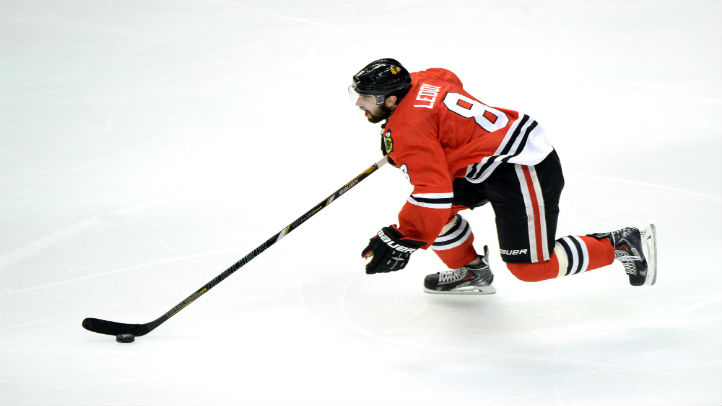 The 5-3 score may make it seem like it was a close game, but the Chicago Blackhawks were thoroughly beaten by the Minnesota Wild on Saturday night at the United Center. Jason Pominville scored twice for the Wild, and Niklas Backstrom had an outstanding game as the Hawks dropped their second game in a row and dropped to 0-2-1 against the Central Division this year.
We'll have plenty of reaction to this game moving forward, but for now, here are Saturday's Three Stars:
Third Star: Patrick Sharp
Sharp has always been a player whose scoring output runs hot and cold, as we discussed here, but as Saturday night illustrates, even he has to be getting frustrated at this point.
In the game, Sharp ended up attempting seven shots, and all of them wound up on goal.
Unfortunately for Sharp and the Hawks, Backstrom was more than up to the task, and he stopped all of them in keeping Sharp off the board.
One play in particular illustrated just how badly things are going for Sharp in the scoring department. On a breakaway in the first period, Sharp made a fantastic move to get Backstrom to commit to a low shot, but as Sharp loaded up to take the forehand, somehow Backstrom got his leg pad in the way of the shot, and Sharp was left wanting once again.
The goals will eventually come for a guy like Sharp (he had another shot go through the goal crease later in the game), but as he was repeatedly shown muttering to himself on Saturday, the inability to score is starting to have a bit of an effect on him.
Second Star: Nick Leddy
One of the Hawks' best puck movers this season, Leddy had another great game in that area on Saturday night, bringing the puck up ice frequently and ending up with two assists in a game where he ended up with more ice time than Niklas Hjalmarsson and Johnny Oduya.
One of his assists was a secondary helper on Marcus Kruger's garbage time goal in the third period, but his assist on Bryan Bickell's first period goal was a big boost to the team after they had a goal disallowed following an Andrew Shaw high stick. On the play, Leddy opted not to try to force the puck into traffic in front of the net, and instead patiently skated around the zone waiting for a lane to open up. One finally did, and he put a picture perfect pass onto Bickell's stick, and the Hawks' hottest goal scorer didn't miss and brought his team to within a 2-1 margin.
It is crucial for Leddy's future with the Hawks that he begin to show some big strides forward this season on both the offensive and defensive sides of the ice, and he has definitely done that through the season's first 11 games. He is much more confident on the defensive side of things despite being forced to play with a different partner just about every night, and his confidence with the puck cannot be overstated.
First Star: Bryan Bickell
So much has been made of the Hawks' decision to move Bickell back down to the third line recently, and he once again showed that he is very comfortable in that role. Playing away from the top defensive lines and pairings of the Hawks' opponents, Bickell has racked up four goals in four games playing alongside Shaw, and his goal on Saturday showed just how much confidence he has regained after his early season struggles.
When he received the aforementioned pass from Leddy in the offensive zone, Bickell made sure to settle the puck down on his stick blade, and picked his spot in the net as he beat the up-to-that-point unbeatable Backstrom to bring the Hawks back to within a goal.
It was a great bit of patience and execution on the part of Bickell, and when you factor that in along with the four hits and a takeaway that he had in his 12:21 of ice time, it's easy to see that he has re-found his niche with the team, and if Joel Quenneville is smart, he won't trifle with this arrangement while it is still working so brilliantly.