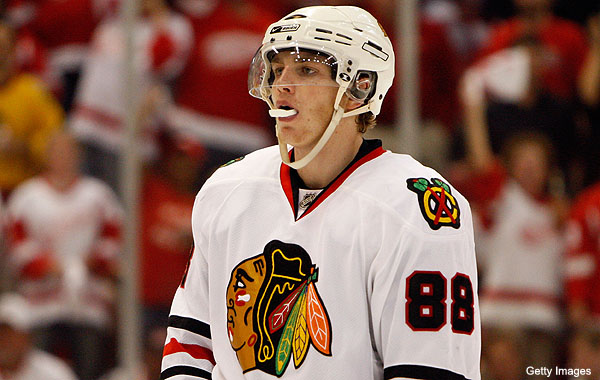 Is there anything better than putting your foot where it doesn't belong on someone else's anatomy in Joe Louis Arena? Watching that place empty out with more than five minutes to go? It rivals anything on a wedding night, I'm sure (note; I'm very anti-marriage).
The Hawks, for at least 40 minutes, were the far superior team -- which allowed them to go into the dime-prevent defense for the 3rd period, skewing how the stats look. They pushed the pace, had crisper passing (mmmm....crisper passing), muddled the neutral zone for the Wings, and didn't allow them to gain the blue line easily. They were opportunistic in cashing in theif first two power plays, with both the goals coming from the second unit. They were calm in their own zone, which is vital against a team like the Wings than can give you the "He's spinning the ball on his finger!!" treatment if you're not careful. And Corey Crawford was outstanding again, cementing his Calder candidate credentials (say that out loud). A very satisfying afternoon, indeed.
I had bemoaned the lack for contribution from the Hawks axis of excellence, namely Jonathan Toews, Patrick Kane, and Marian Hossa. All three registered points today. Hossa had five shots. Toews and Kane went Globetrotter at times on depleted Wings defense. While they'll all eventually have to start scoring themselves, this was a fine beginning to what we hope is a streak from them. When the Hawks are in this mood and can beat you from anywhere, it's imposing indeed.
Duncan Keith and Brent Seabrook reappeared from the general malaise that had been affecting them (hardass, that General Malaise) and when they are good to dominant, the Hawks have such an easier time.
It has to be said the Wings were beat up, missing Tomas Holmstrom, Daniel Cleary, Brad Stuart, and most devestatingly Pavel Datsyuk. When these two square up again, it'll be a different looking side. But that's what you do to a team sending out things called Tartar. You swat them aside. It gets harder tomorrow, but this is an excellent base for that. The Wings could have closed the casket today on our Central division hopes, and 8 points back is still a mountain. But the Hawks see these guys three more times, there's still plenty of hockey left, and nothing is decided yet. Keep The Undertaker and Paul Bearer in the dressing room for now.