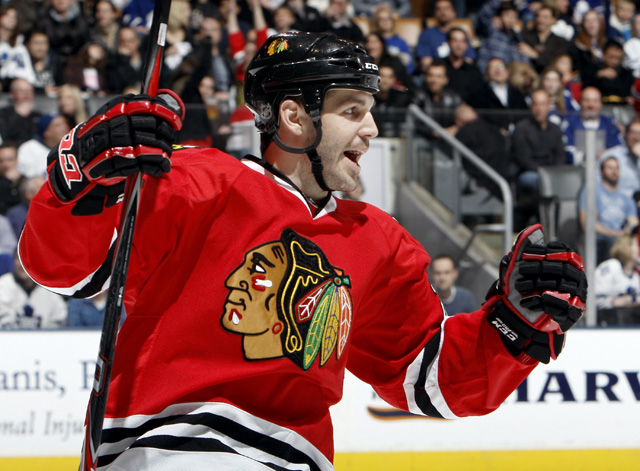 Hockey seasons are long, even when you go out in the first round. No better proof of that than the wild swinging emotions we felt about Jake Dowell from the start to finish. We didn't expect much, were pleasantly surprised, and then pretty disappointed when it was all over. Not easy to do that in just six months of a season, but Jake managed it.
Positives: Well, there was up through December. Dowell slotted in as the fourth line center, and at first appeared a large improvement over the departed Colin Fraser and Adam Burish, who had mostly manned that role in the previous two years. Dowell showed a better scoring touch from that slot than previous occupiers, an ability to be physical, defensive prowess. And Dowell was probably the Hawks best penalty killing forward this season.
Negatives: 2011 then happened. That scoring touch Dowell had showed completely vanished when the intensity got turned up. 21 points for a fourth liner is actually all right, but only four came in his last 40 games. Dowell lost some of his physical play as well. His defensive role went into the toilet. He couldn't win a draw and therefore couldn't keep himself on the ice after whistles. It got so bad that he was a healthy scratch for five of the seven playoff games, and if it weren't for injuries he probably wouldn't have dressed in those two either. When you're getting dumped for John Scott, you know things have gone completely pear-shaped.
Contract Status: Restricted Free Agent
Keep Him or Ship Him: This decision has probably already been made, certainly by Joel Quenneville. As soon as Dowell was deposited in the pressbox for playoff games, it was clear he was deemed not good enough. He's already 26, so you wonder how much improvement one can genuinely expect from Jake. Combine that with the Hawks almost certainly looking to upgrade from Ryan Johnson at 4th line center, who himself was an attempted improvement on Dowell, and Jake is headed elsewhere this summer.