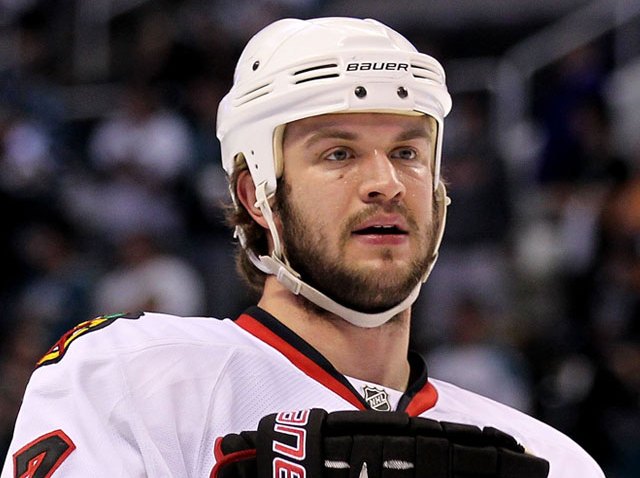 Now, can he find his true self as Duncan Keith has done in his absence?
Then again, we're all on a search for our true selves. But anyway, theologicial discussions aside, the news of this morning's team meeting was that Brent Seabrook will return to the lineup after being out with concussion. This really could not be better news. And thankfully John Scott will return to the pressbox, where he's always belonged.
This brings up an interesting debate for Joel Quenneville. Does he return Seabrook to a partnership with Duncan Keith? Or does he leave Keith with Nick Leddy where he's been the past two games and played two of his better games of the year? Not that it matters all that much, because as the game wears on and Leddy's minutes get cut, everyone ends up playing with everyone. Q could opt to pair Chris Campoli with Seabrook, leaving the other two pairs intact. But Campoli and Seabs haven't played much together, and now is probably not the time to be jangling with experiments.
The forward unit will remain the same, but it shouldn't. Viktor Stalberg has struggled on the top line. He's not cut out to face top defensive pairs, where his speed isn't as backbreaking and his lack of hands are, to him. He's far better cut out to ruin Sami Salo's and Keith Ballard's day with the 4th line of the Hawks, where his and Ryan Johnson's speed can't be matched. But don't sit on a hot stove waiting for this to happen.
In fact, the Hawks have little to change, other than to react to whatever it is the Canucks do. They just have to play the same game they have the past two, which basically involved stepping back enough to let the Canucks fall flat on their face, and then walk over them. But they can't count on that tonight. It is likely the Canucks first focus on jamming up the neutral zone, so being careful with the puck is the most important thing.
This is the first game since Game 3 that the Hawks have something to play for. The first two wins of this series were just about making a mark. But now the Hawks have a chance to draw even, and to send the Canucks and themselves back to BC for a Game 7 where Vancouver would face more pressure than perhaps any team ever has. And history suggests they won't deal with that well. So how do the Hawks respond now that they finally have something to lose? Have the lessons of this season been learned? We'll find out.