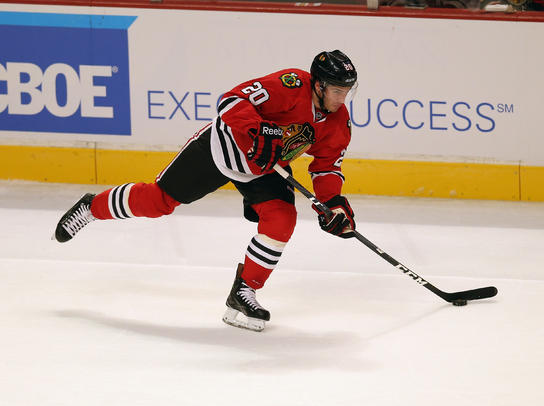 Chicago Blackhawks center Dave Bolland will return to the team along with goaltender Ray Emery for the Hawks' second round series.
Questions were raised about what it would potentially mean for the line combinations going into the next part of the playoffs, but it seems as though those questions have been answered.
According to Chris Kuc of the Chicago Tribune, it would appear that Bolland will be slotting on the third line, but that may not necessarily mean a demotion for Andrew Shaw. In fact, it appears that Shaw will move to the wing spot on that line, and it will be Bryan Bickell who will move, up to the top line with Jonathan Toews and Marian Hossa.
As for what that means for Brandon Saad, that remains unclear. He was relegated to a position outside of the Hawks' four line rotation in Saturday's practice, and while that isn't necessarily an indicator that he will sit out the next game for Chicago, it definitely was a move designed to send a message to him and Viktor Stalberg, who also sat out after getting only one assist in the five game series against the Wild.
While it is highly unlikely that Stalberg will be in the press box for Game 1 of the next round, it wouldn't be all that surprising to see Quenneville give one of his Rockford players a crack at the lineup in place of Saad. He hasn't been enamored with the play of Daniel Carcillo this season, and outside of him, the team has few other options that have postseason experience, but the biggest one by a mile is Ben Smith. Smith had a solid run with the team back in the 2011 playoffs against the Vancouver Canucks, scoring a game-winning overtime goal to send the series to a seventh game.
In addition, Jimmy Hayes did play with the team in the playoffs last year against the Phoenix Coyotes, and his big bodied style of physical play, coupled with good hands and scoring touch, is reminiscent of what Bickell brings to the table for the Hawks.
In either case, Quenneville has the luxury of depth on his side as he tries to shake up his team a bit after what he considered to be a fairly lackluster first round performance against an inferior opponent. If a guy like Stalberg or Saad isn't guaranteed a spot in the lineup after the seasons that they had, then that sends a message to other guys like Shaw and Kruger that Quenneville will not hesitate to bench them either, and that urgency could come in handy as they prepare to face their next opponent.