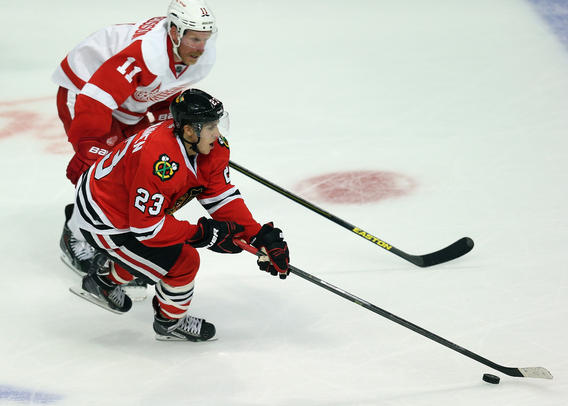 With the World Junior Championships taking place in Malmo, Sweden, there is one Chicago Blackhawks prospect that is once again making some serious noise on the world stage.
That prospect is Finnish product Teuvo Teravainen, whom the Blackhawks took with the 18th overall pick in the 2012 NHL Entry Draft. He already has three assists for the Finns in the tournament, and even though his team is trailing Sweden and Russia in Group B play, the top eight teams of the 10 in the tournament will advance to the knockout stage, so Finland is in good shape.
Overall this season with Jokerit, Teravainen is playing extremely well. He only has three goals in 29 games, but he does have 14 assists and is on pace to beat his point total from last season if he can keep up his strong play.
With that in mind, Teravainen spoke to the Finnish website Jatkoaika and revealed that he plans to make the jump to North America next season. Here is a (roughly) translated quote from Teravainen about what he hopes to accomplish in 2014:
"Let's play these games and hopefully (bring) home the gold. Since then, the objective is the success of Jokerit, and for the next season, hopefully I'll go to North America."
In his brief time with the Blackhawks during the 2013 preseason, Teravainen displayed some of the skills that have fans and scouts alike drooling with anticipation. He is lightning quick on the ice, has a tremendous shot, and he is a great passer. He could be a perfect fit in a second line forward role for the Blackhawks, as his speed and passing ability will open up a lot of ice for guys like Patrick Kane and Brandon Saad should Joel Quenneville slot him with guys like that.
Needless to say, it's good news for the Hawks that Teravainen is looking to come over to the US next year. Playing with the Rockford IceHogs should help get him acclimated with the American game, and if he can adjust at the same speed that his fellow Finns Antti Niemi and Antti Raanta did, then Teravainen could be a real threat to crack the Blackhawks' roster at some point next season.