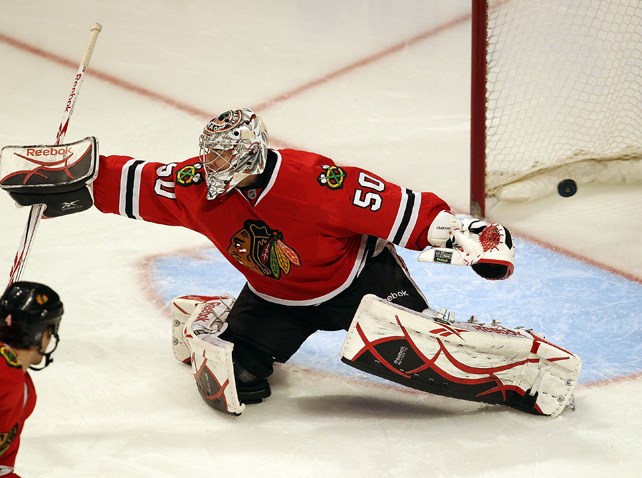 With this break, I thought it was time to hand out some kinda mid-term grades (we're 50 games in here so it's not exactly halfway). So let's get to it, starting with the men in the cage:
Corey Crawford - While a lot of people would want to make this a Cinderella Story, Hawks fans in the know weren't too surprised at what Mr. Crowley has come up with this season. He's been allowed to overcook in the AHL for five years, showed flashes in his brief appearances with the big club, and the only reason he wasn't ahead of Antti Niemi pretty was because he had an extra year on his contract. However, we didn't think he'd be flirting with the top-5 in the league in goals-against and top 10 in save-percentage, or at least he was until this week's minor blip. Crawford has been as solid as can be, positionally exemplary and coming up with the big save whenever his team has needed it. He can look a little slow going side to side, which could get exposed as the season goes on. But this break is probably coming at the perfect time for him, and he could still yet crash the Calder Trophy race for rookie of the year.
Grade: A-
Marty Turco - Turks was pretty much up against it from the start. Though most fans understood Niemi's departure and the reasons behind it, you're still replacing a Cup winning goalie. Add to that a spotty start with an increasingly panicky and uncaring defense who still can't adjust to Turco's puck playing abilities, and you have some serious ups and downs. Turco was bad in some games, but also was completely deserted in others by his team leading to some ugly numbers. He had a brief flash of excellence in December around Christmas when filling in for a sick Crawford, and his last outing was a win against Nashville when his team finally bailed him out of a so-so performance. But Turco has been unpredictable and sews a sense of unstability amongst the defense, as well as letting in some goals he shouldn't. Still, he's been the good soldier as Crawford took the starting job, and there's nothing wrong with paying a backup $1.5 million, especially when he can give you a chance most nights.
Grade - C+