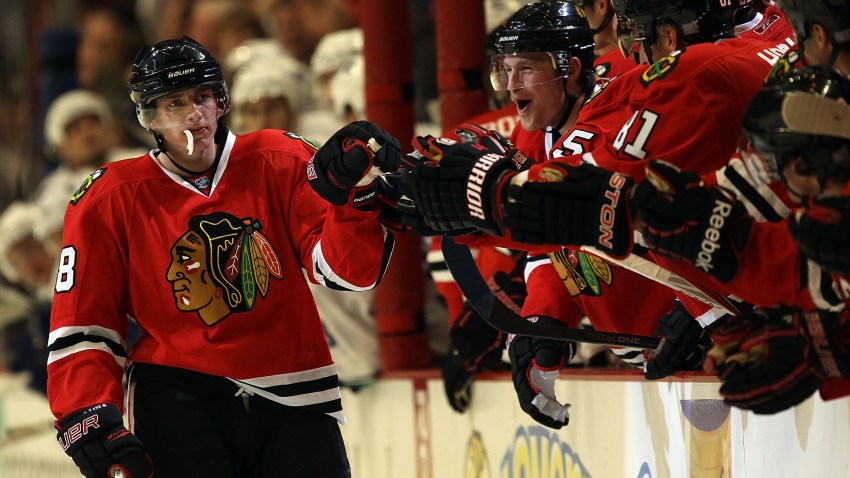 Ryan Johnson - There's probably a reason that no one was beating down Johnson's door in December. Brought in as Bolland-injury insurance, hasn't suited up much, and hasn't done much when he as. Kinda quick, can kinda win faceoff, can kinda kill a penalty. Kinda there, kinda not. Still should suit up ahead of Scott when the occassion calls, though.
Grade: Inc.
Patrick Kane- Well, the numbers look ok, 37 points in 41 games. They look a little better when remember that he did injure an ankle and it took a couple games to knock the cobwebs out. But the eye test will tell you different. Kaner hasn't dominated shifts, periods, or games that we remember him doing last year. He's picked up his points on the power play or with one neat play, but he's also lapsed in his own zone far too often. He's been lazy, and weak with the puck too often as well. Kane shouldn't settle for a 70-point season, and neither should we, when we know he's capable of 90 or even 100. Has faded when given a lot of ice time, which makes one wonder about conditioning. Need more.
Grade: B- Grade for partying: A-
Tomas Kopecky - Well, it's hard to argue with a guy who's already setting career highs for goals and points. And Kopecky provides something the Hawks don't have much of, which is a big body to get to the net. When on a line with Master Hossa, Kopecky has for the most part been fine. But he can also be infuriating. He isn't very strong on the puck, and isn't very good defensively. He needs an eternity to get a shot off when farther out. But as long as he continues to crash the net when he can, our complaints about his shortcomings will be more muted. We're trying Tomas, we really are.
Grade: B
Fernando Pisani - Better than expected. Some thought he'd wash out of Chicago by this point, but when he's been healthy, a big if with The Pope-Ah, he's formed a nice axis of destruction with Dave Bolland. A solid checker, he's had his struggles on the pk, but so has everyone. On his way to scoring more goals than he has in five years, been more effective than we ever thought.
Grade: B+
John Scott - Ugh. Been seen far too much, done far too little. Not his fault he serves no purpose and yet keeps getting tossed out there.
Grade: Whatever