Who gets what label?
MVP - Jonathan Toews: Well this is kind of a no-brainer seeing as how he's a candidate for the league-wide MVP. Toews has picked up this club on many nights when they weren't there, and will be the Hawks first 40-goal scorer since Tony Amonte (injury permitting). Toews recently took on the main checking duties as well, performing that duty by simply keeping other teams' top players being defense. It seems like something happens every time he's on the ice. Oh, and he's the league's best faceoff guy, which keeps the Hawks with the puck. That's kind of important.
Biggest Surprise - Marcus Kruger: More candidates for this one. Andrew Shaw has been a revelation, but he's only been here a month. Viktor Stalberg has popped up from the doghouse, but the talent was always there and he's benefitted from playing with the Hawks best players at times -- though they've benefitted from playing with him at times. However, Kruger couldn't even make the team out of camp, then installed himself on the 4th line, and was promoted to the 2nd center position through a high IQ, determination to get to the net, and some quick hands defensively. Still some warts to make up for, but Kruger so far has proved Stan Bowman's faith in him correct.
Biggest Disappointment - Corey Crawford: Few horses to select from on this one too. Nklas Hjalmarsson has been pretty much not there all year. Andrew Brunette has struggled defensively. But so much was expected of Crawford after his standout rookie year and signing a contract extension to give the Hawks what we thought would be an answer to the goalie conundrum for the next few years, something we haven't experienced in forever. Hasn't worked out that way. Crawford has been shaky at best since the opening weeks of the season, and he's bringing the penalty kill and defense down with him. The Hawks cannot go where we all want them to without those two components, and they will only improve when, and if, Crawford comes back from the zoo. It's that "if" that scares everyone into involuntary bodily functions. The Hawks probably can't go out and get another goalie, and they don't have an in-house solution this time. This is what's keeping us up at nights.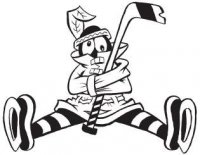 Sam Fels is the proprietor of The Committed Indian, an unofficial program for the Blackhawks. You may have seen him hocking the magazine outside the United Center at Gate 3. The program is also available for purchase online. Fels is a lifelong 'Hawks fan and he also writes for Second City Hockey .