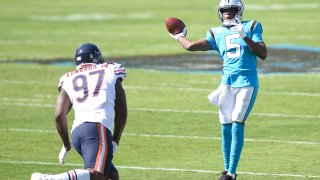 Bears' Edwards charged in N.C. with assault on a female originally appeared on NBC Sports Chicago
Bears defensive lineman Mario Edwards Jr. was charged with misdemeanor assault on a female following an incident at a hotel in Charlotte the night before the Bears' Week 6 game against the Carolina Panthers.
A police report obtained by NBC Sports Chicago listed both Edwards and a woman as victims in the incident. The narrative section of the police report reads:
"On Oct. 18, 2020 at 12:10, officers responded to 222 East 3rd Street in reference to a female hitting a male with her hand and scratching his forehead."
While the Mecklenburg County District Attorney filed criminal charges against Edwards, the woman filed a domestic violence order of protection against the 26-year-old defensive lineman.
TMZ was the first to report the charges and allegations against Edwards.
Edwards' agent, in a text to NBC Sports Chicago, denied the charges against his client, saying "he was the victim."
Edwards' case is unserved and he does not have a court date yet set in Mecklenburg County.
Text messages seeking comment from the Bears were not immediately returned. It's unknown if, in addition to the criminal and civil complaints against Edwards, he violated the NFL's coronavirus protocol by having a visitor in the team hotel.
Copyright RSN