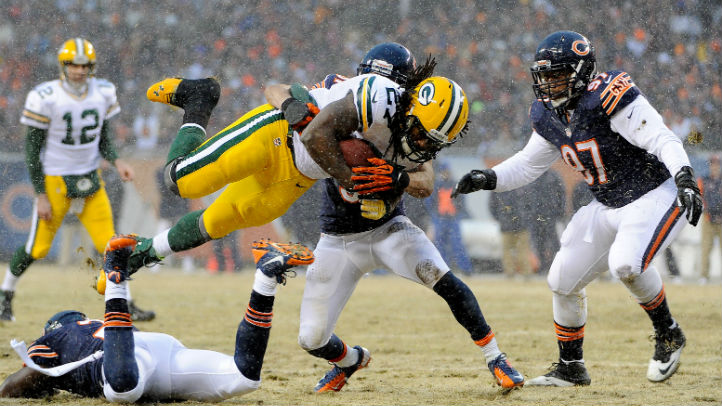 To say that Sunday's game between the Chicago Bears and Green Bay Packers is a big one is obviously a big understatement.
We'll be watching the Bears take on the Packers at Soldier Field Sunday, will you? We'll post updates, comments and questions on Facebook, Twitter and in this live chat, but we want to hear what you have to say!
Post your thoughts and responses in the comments section below. We may use some of your posts in our Sports Sunday newscast.
#Bears lose 33-28 as @AaronRodgers12 completes a storybook comeback throwing game winning TD on 4th down w/:38 left in the game! — Peggy Kusinski (@peggykusinski) December 30, 2013
#Bears lead 28-27 with 11:38 left in game to decide #NFCNorth — Peggy Kusinski (@peggykusinski) December 29, 2013
#Packers quickly strike back behind Nelson's 1148 yds receiving; Lacy easy touchdown run. GB kicks extra point instead of gametying 2 pt. — Peggy Kusinski (@peggykusinski) December 29, 2013
#Bears open 4Q with a @BMarshall push off & spin move into the endzone for a 5 yard touchdown catch. #Bears up 28-20 to open 4th — Peggy Kusinski (@peggykusinski) December 29, 2013

(function(d, s, id) { var js, fjs = d.getElementsByTagName(s)[0]; if (d.getElementById(id)) return; js = d.createElement(s); js.id = id; js.src = "//connect.facebook.net/en_US/all.js#xfbml=1"; fjs.parentNode.insertBefore(js, fjs); }(document, 'script', 'facebook-jssdk'));
#Bears don't challenge, come back from timeout & @MattForte22 scores 1 yd Touchdown. His 3rd of day. Chicago retakes lead 21-20 — Peggy Kusinski (@peggykusinski) December 29, 2013
#Bears Cutler finds @AJJeffery1 67 yds looks to stumble into endzone, but refs rule him down at 1 yd line. #Bears don't challenge challenge — Peggy Kusinski (@peggykusinski) December 29, 2013


#Bears Major Wright being evaluated for concussion — Peggy Kusinski (@peggykusinski) December 29, 2013
#Packers Starks 41 yd run sets up; Aaron Rodgers 7 yd TD pass to Cobb & Green Bay 20-14 lead — Peggy Kusinski (@peggykusinski) December 29, 2013
#Bears @MattForte22 walks into endzone for 5 yard Touchdown, Chicago re-takes lead 14-13. — Peggy Kusinski (@peggykusinski) December 29, 2013
#Bears @D_Hest23 just returned GB punt 49 yds to the #Packers 30 yd line — Peggy Kusinski (@peggykusinski) December 29, 2013
What adjustments does Marc Trestman need to make in the second half? We're chatting here http://t.co/1EmkvmCEGH pic.twitter.com/ItyZ6mXJVX — Grizzly Detail (@Grizzly_Detail) December 29, 2013
Halftime: #Packers lead #Bears 13-7 getting a TD on Rodgers fumble recovery, tack on a FG off Bears turnover. Turned game around — Peggy Kusinski (@peggykusinski) December 29, 2013
(function(d, s, id) { var js, fjs = d.getElementsByTagName(s)[0]; if (d.getElementById(id)) return; js = d.createElement(s); js.id = id; js.src = "//connect.facebook.net/en_US/all.js#xfbml=1"; fjs.parentNode.insertBefore(js, fjs); }(document, 'script', 'facebook-jssdk'));
#Bears defense holds to a FG off the turnover; 13-7 #Packers lead — Peggy Kusinski (@peggykusinski) December 29, 2013
dangerous now, #Bears Jeffery fumbles, #Packers recover giving Rodgers ball back at Chicago 28 yd line with 1:47 left in half. — Peggy Kusinski (@peggykusinski) December 29, 2013
I run the gamut of emotions on that play, but guess what: that would NEVER happen to a Lovie Smith coached defense. #Bears — Hunter Hillenmeyer (@hthill) December 29, 2013
what a turn of events - Soldier Field is dead silent. #Stunned #Bears fans — Peggy Kusinski (@peggykusinski) December 29, 2013
refs rule the ball was loose & was a FUMBLE recovered by #Packers & returned for 15 yd Touchdown. Green Bay takes lead — Peggy Kusinski (@peggykusinski) December 29, 2013
#Packers TD is under review. Rodgers told Boykin to "GO". Gotta play til the whistle. — Peggy Kusinski (@peggykusinski) December 29, 2013
#Bears Peppers sacks Rodgers from behind, Chicago thinks its incomplete pass, but #Packers Boykin picks up & runs in for TD. #NoWhistle — Peggy Kusinski (@peggykusinski) December 29, 2013
#Packers Rodgers goes right at Derrick Martin & gets 1st down. Tim Jennings back in for #Bears — Peggy Kusinski (@peggykusinski) December 29, 2013
#Bears @HennOrJenn26 leaves field, replaced by Derrick Martin. (Bowman, Martin, Frey, Wright & Conte) on #Packers 3rd & 4 — Peggy Kusinski (@peggykusinski) December 29, 2013
Jordan Mills is out for the #Bears on offense, and they may suffer another loss as Tim Jennings is down on the field. Yikes. — Grizzly Detail (@Grizzly_Detail) December 29, 2013
#Bears Hester fumbles the kickoff, Bears recover but Costanzo flagged for illegal block — Peggy Kusinski (@peggykusinski) December 29, 2013
credit Major Wright & Chris Conte for the PBU on Nelson in the endzone, holds #Packers to a FG — Peggy Kusinski (@peggykusinski) December 29, 2013
Rodgers goes down with Briggs & McClellin right there, and refs flag Shea McClellin for unnecessary roughness. That is a QB protected rule — Peggy Kusinski (@peggykusinski) December 29, 2013
#Bears defense INTERCEPTS @AaronRodgers12 again, this time @HennOrJenn26 after Nelson tips. — Peggy Kusinski (@peggykusinski) December 29, 2013
After the first quarter, are you feeling more confident #Bears fans? We're talking about our feelings in our chat http://t.co/Io0tRScrMT — Grizzly Detail (@Grizzly_Detail) December 29, 2013
(function(d, s, id) { var js, fjs = d.getElementsByTagName(s)[0]; if (d.getElementById(id)) return; js = d.createElement(s); js.id = id; js.src = "//connect.facebook.net/en_US/all.js#xfbml=1"; fjs.parentNode.insertBefore(js, fjs); }(document, 'script', 'facebook-jssdk'));
Cutler throws a low dart to @MattForte22 who turns into endzone for a Touchdown. #Bears take a 7-0 lead on #Packers — Peggy Kusinski (@peggykusinski) December 29, 2013
#Bears @BMarshall beautiful over the shoulder grab for 37 yd gain inside 10 yd line — Peggy Kusinski (@peggykusinski) December 29, 2013
#Bears Chris Conte Intercepts @AaronRodgers12 in endzone on 3rd & 5 from the Chicago 5 yd line. Good pressure flushed him out of pocket. — Peggy Kusinski (@peggykusinski) December 29, 2013
#Bears RT Jordan Mills OUT rest of game w/foot injury. Chicago was 1 of 3 teams to have all 5 OL start all 16 games — Peggy Kusinski (@peggykusinski) December 29, 2013
#Packers two 3rd down conversions this drive: Nelson slips by Frey, then Frey commits holding penalty — Peggy Kusinski (@peggykusinski) December 29, 2013
#Bears waste field position inside the 50, go 3 & out & punt — Peggy Kusinski (@peggykusinski) December 29, 2013
#Bears @D_Hest23 big return pluys a #Packers unnecessary roughness penalty tacks on 15 more & Chgo starts in GB territory — Peggy Kusinski (@peggykusinski) December 29, 2013
#Packers win the coin toss; #Bears will receive & start on offense — Peggy Kusinski (@peggykusinski) December 29, 2013
Freezing rain coming down pretty good now at Soldier Field #Bears & #Packers — Peggy Kusinski (@peggykusinski) December 29, 2013
(function(d, s, id) { var js, fjs = d.getElementsByTagName(s)[0]; if (d.getElementById(id)) return; js = d.createElement(s); js.id = id; js.src = "//connect.facebook.net/en_US/all.js#xfbml=1"; fjs.parentNode.insertBefore(js, fjs); }(document, 'script', 'facebook-jssdk'));
#Packers @rcobb18 is activated for today's game — Peggy Kusinski (@peggykusinski) December 29, 2013
#Bears/#Packers bringing Hollywood stars to Soldier Field pic.twitter.com/marld3qfQy — Zach Zaidman (@ZachZaidman) December 29, 2013
PHOTOS Key Matchups: Packers vs. Bears http://t.co/dY9UQ1XUAJ — Grizzly Detail (@Grizzly_Detail) December 29, 2013
(function(d, s, id) { var js, fjs = d.getElementsByTagName(s)[0]; if (d.getElementById(id)) return; js = d.createElement(s); js.id = id; js.src = "//connect.facebook.net/en_US/all.js#xfbml=1"; fjs.parentNode.insertBefore(js, fjs); }(document, 'script', 'facebook-jssdk'));