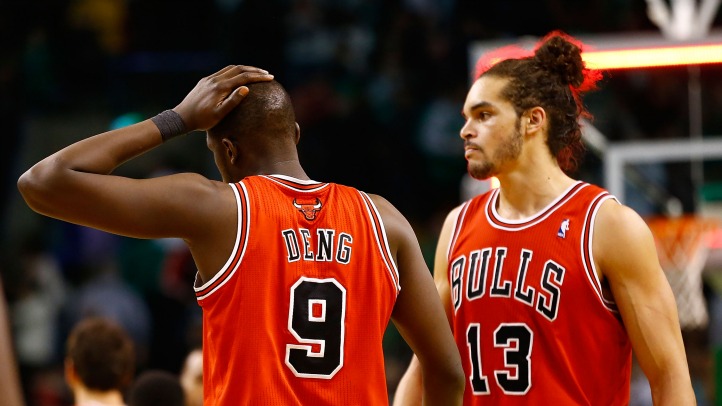 The Bulls were in it and then it was over. That's the way it went for Chicago as they fell to the Western Conference-leading San Antonio Spurs, 101-83. For a while, it appeared as if the shorthanded Bulls would pull off the upset as they held a 14-point advantage with less than five minutes to go in the first half.
But the Spurs flipped the switch and outscored the Bulls 54-31 in the first half and notched their 48th win of the season while Chicago now sits in sixth place in the Eastern Conference, a game and a half behind Atlanta, and with Boston nipping at their heels at just a half-game back.
The Good
Marco Belinelli (21 points, seven assists) led the Bulls in scoring and shot the ball well. Luol Deng (19 points, seven rebounds) found himself in a nice groove as did Joakim Noah (eight points, 13 rebounds, four blocks) who didn't shoot the ball well, but still had a solid game. Rookie Marquis Teague (11 points, three assists) also played well off the bench. The Bulls took care of the ball, turning it over just eight times instead of the customary double-digit outings we're used to seeing, and forcing the Spurs into committing 12 turnovers and scoring 19 points off of them.
The Bad
The Bulls were outrebounded by the Spurs 47-41 in the game with 42 of San Antonio's rebounds coming on the defensive glass. Chicago also allowed San Antonio to finish the game with five players scoring in double figures, two of those off the bench.
The Ugly
The Bulls finished the game shooting 37 percent from the field while allowing the Spurs to shoot 54 percent. The bench was outscored 45-18 and Chicago scored 16 and 15 points respectively in the third and fourth quarters. Nate Robinson (seven points, five assists) shot the ball poorly going 3-13 from the field, and Carlos Boozer (10 points, eight rebounds) really struggled against his counterpart in Tim Duncan (18 points, 10 rebounds, five blocks).
Follow Outside Shot on Twitter (@Outside_Shot) for more Bulls news and information