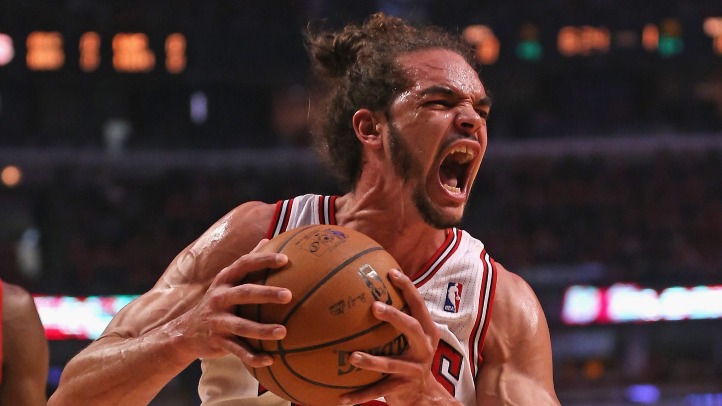 After being given the day off on Saturday, Tom Thibodeau took his team through an intense two hour practice at the Berto Center on Sunday morning in preparation for the NBA's biggest game on opening night: the Chicago Bulls vs. the Miami Heat.
The Tuesday game marks the official return for Derrick Rose who tore the ACL in his left knee 18 months ago. It will also be the same night the Heat receive their second consecutive NBA Championship ring and raise the 2013 championship banner to the rafters of the American Airlines Arena.
The night will be filled with a bevy of emotion, and Joakim Noah can't wait.
"It would have been really tough to sit out a game that I've been waiting for all summer; that I've been training for all summer. It would have been tough," Noah said after practice on Sunday. After appearing in just one of the Bulls eight preseason games due to a groin injury, Noah says there's a "100 percent,' chance that he will play opening night in Miami.
"I'll be fine. I'm not worried about it. I've been working on my conditioning the whole time. Even with the groin it was more of a lateral problem, a jumping problem, more than just running straight forward. So I was doing a lot of running the whole time. I'll be fine."