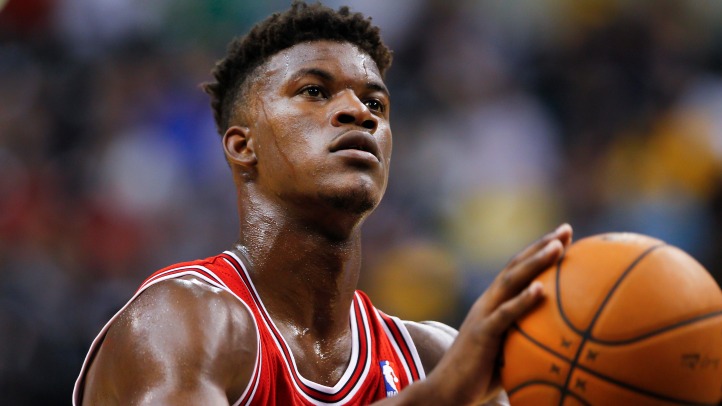 Jimmy Butler was scratched from the starting lineup on Wednesday night because of an injury to his left leg.

According to the Chicago Tribune, Butler underwent an MRI that showed the Bulls starting shooting guard is suffering from a knee bruise.
It's nothing serious, but with the team making overall player health and injury prevention a primary concern this season -- especially when it comes to knees -- Butler was forced to sit out against Detroit, even if he didn't want to.
"I love going to war with these guys," Butler said. "It's messing me up mentally knowing I can't be out there with them."
Butler suffered the injury during Saturday's contest with the Washington Wizards in Brazil after banging knees with John Wall. He finished out the game, but his knee began paining him after it was over.
"I wanted to finish out that game [against Washington]," Butler said. "After my body cooled down, it got back to throbbing. It's just a bruised knee, nothing major. With time and rest, it will get back to normal."
The Bulls host the Indiana Pacers at the United Center on Friday night and it's still unclear if Jimmy Butler will be cleared to play or forced to sit out another exhibition. If he does, it will mark the fifth consecutive game that Chicago has taken the floor without the starting lineup expected to open the regular season.