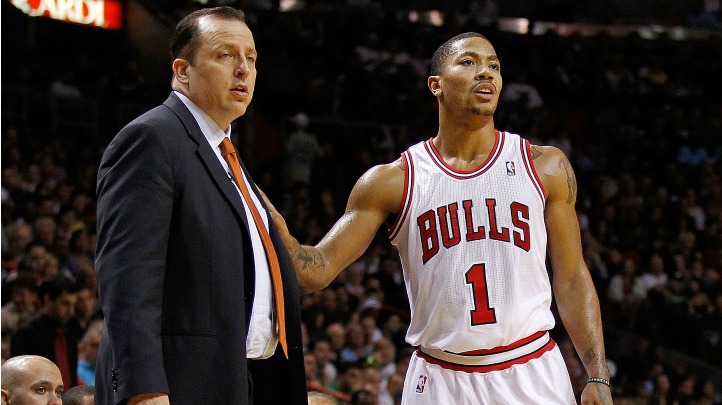 Fifteen shots. That's how many Derrick Rose has made in the first three games of the 2013-14 NBA season. After dominating the competition during the preseason and giving Bulls fans hope that D. Rose was back and seemingly better than ever, the regular season appears to be the equalizer as the star point guard is shooting 15-52 from the field, 4-15 from the three-point line and he's committed 17 turnovers – eight against Philadelphia.
"I'm not playing well right now," Rose said matter of factly after the Bulls 107-104 loss to the Philadelphia 76ers on Saturday night. "Me just doing too much; overthinking the play."
Rose has always been willing to shoulder the blame whenever the Bulls haven't played well, but Tom Thibodeau says the problem doesn't lie solely with his superstar.
"I don't think he's playing poorly. I think our team is playing poorly right now," the coach said. "We have to straighten that out. When things are going well, they go well together. When things aren't going well, we do that as a team too. We have issues we have to correct. We have to get into the gym and work our way out of it."
Beset by injuries to key players -- most notably Joakim Noah -- during training camp, the Bulls starting unit didn't get the necessary reps that they needed to develop chemistry and it's showing on the court. Chicago's second unit isn't playing well either and Thibodeau says more work in the gym is necessary in order to correct their mistakes.
"We just have to work our way through it. We have to keep getting reps, we have to practice. It's hard to execute when you don't practice. We need time in the gym," said Thibodeau. "And as for Rose, he echoes the sentiment of his coach in that the Bulls have plenty of time to get things back on track, as does he."
"I have games like this and coming off a big surgery or whatever, but like I said, all I can do is get the most out of every practice, every shootaround, every shooting session and just go out there and play. But it's going to come."