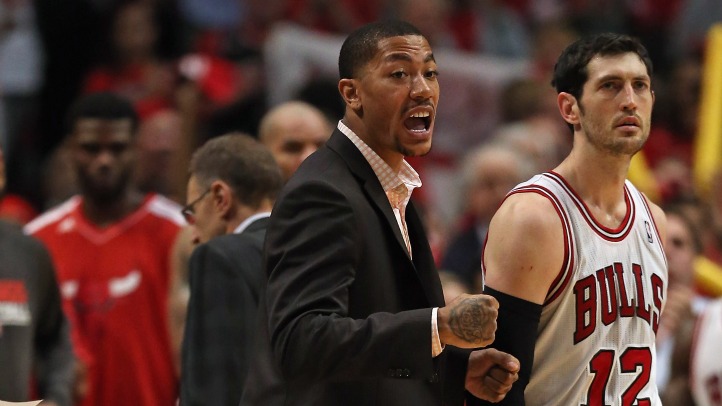 On Sunday, reports began to surface that Derrick Rose could possibly come back in the second round against the Miami Heat should the Bulls, who have a 3-1 series lead, get past the Brooklyn Nets in round one; this coming from a recent Chicago Tribune interview with Reggie Rose.
As many may recall a couple of months ago, the elder Rose blasted the Bulls front office for not surrounding his superstar brother with enough talent to win. But the elder Rose had a different tone in the Tribune interview.
"I think anything is possible," Reggie Rose said about whether his brother could still suit up in the playoffs. "He has been working hard and getting a lot of shots up every day. Most of all, he is getting his mind ready, getting comfortable with his body. I think [his mind] is probably at a good 90 percent now."
The mental aspect is the biggest and final hurdle standing between D. Rose and the basketball court. So much so that many have begun to question just how tough he is mentally due to his aversion to get back to competitive basketball again.
But all of this speaks to a bigger issue. No one is doing the former MVP any favors by commenting on his health and what he's been doing on the practice court, while still essentially keeping the door open for a possible return this season, knowing it's very unlikely at this point.
How much sense would it make for Derrick Rose to come back against the Miami Heat, knowing at some point he'll draw the defensive assignment of LeBron James while still being unsure of himself and his abilities on the court? Yes, it would be great to see him in uniform, and for him to come back and lead the Bulls past the Heat would be stuff of his legend.
But that's make believe. The reality is that if D. Rose comes back in the second round, a calendar year removed from his last official NBA game, his presence on the floor would no doubt do the Bulls more harm than good.
And to that end, it's hard to imagine why nobody within the Bulls organization – or the Rose camp – won't just kill all of this rampant speculation by making a simple announcement that Derrick Rose is definitely "out" until the 2013-14 season. Anything less than that is doing the 24-year-old superstar a disservice.
According to Reggie Rose, "The Bulls organization has basically told him: We support you. When you are ready, we will welcome you with open arms." So if that's the case, why not take the heat and the pressure off the face of the franchise by just shutting everything down now?
No more rumors. No more speculation about a possible return. Just a simple statement that acknowledges D. Rose won't be back this season and we can all enjoy what's left of the Bulls season without having the thought of Derrick possibly coming back this year stuck in the back f our minds. It would be the right thing to do.
Normal 0 false false false EN-US JA X-NONE /* Style Definitions */ table.MsoNormalTable {mso-style-name:"Table Normal"; mso-tstyle-rowband-size:0; mso-tstyle-colband-size:0; mso-style-noshow:yes; mso-style-priority:99; mso-style-parent:""; mso-padding-alt:0in 5.4pt 0in 5.4pt; mso-para-margin:0in; mso-para-margin-bottom:.0001pt; mso-pagination:widow-orphan; font-size:12.0pt; font-family:Cambria; mso-ascii-font-family:Cambria; mso-ascii-theme-font:minor-latin; mso-hansi-font-family:Cambria; mso-hansi-theme-font:minor-latin;} Follow Outside Shot on Twitter (@Outside_Shot) for more Bulls news and information