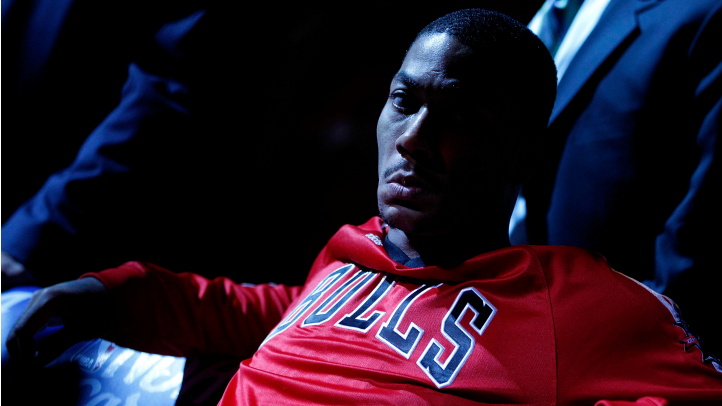 Derrick Rose is currently in Los Angeles continuing to rehab on his surgically repaired knee and hasn't been seen with the team very much at all this season.
He wasn't expected to travel as he continues to prepare his body for a comeback, but even during home games he's elected to not sit on the bench with his teammates and has instead chosen to remain in the shadows.
But with the way the squad has performed of late, a brand of identity-less basketball that has led to some disappointing losses already, it makes you wonder if it would be beneficial to have Derrick sit on the bench with his teammates, at least during home games.
Over the last two seasons, the Bulls have taken on the identity of their MVP point guard who goes hard every possession and leaves it all on the court for the sake of getting the 'W' at the end. That's the way he plays and his teammates quickly fell in line, played the exact same way and success quickly followed.
For as much as people like to paint Derrick as soft-spoken superstar who is devoid of personality, that's just not so. His fire and passion for the game of basketball – and winning – is plainly obvious and also infectious.
It's clear that without that "direction" from their leader, this team is like a rudderless ship drifting aimlessly in the ocean and at the complete mercy of the waves.
Although it may hurt for him to sit and watch his guys play because he's not healthy enough yet to get out there and compete with them, it would certainly help Derrick's teammates to see him cheering them on.
It would help if they could hear his voice in the locker room, in huddles between quarters and during timeouts, screaming directions from the bench. All of these things would foster a mindset of not letting their superstar down: "Forget the Gipper, let's win this one for D. Rose."
Before it can be misconstrued as such, this is not an admonishment of Derrick in any way. I understand his reasoning for not wanting to be anywhere near an NBA basketball court if he's not going to play. But this team is in the midst of an identity crisis and they need a leader.
Even if he's unable to lead them on the court, he can lead them with his voice. He can lead them with his presence.