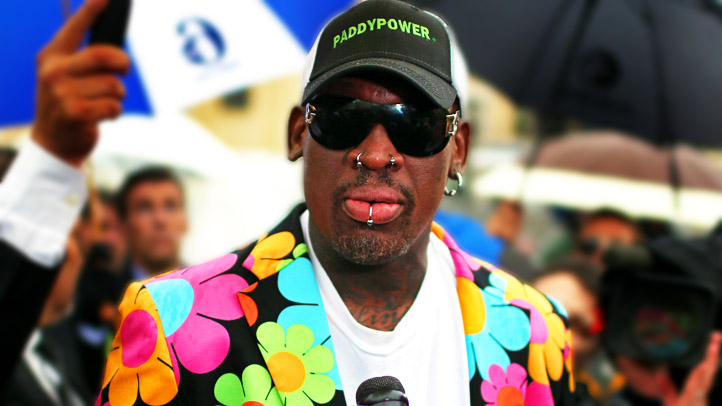 You have to hand it to Dennis Rodman. Despite retiring from basketball after the '00 season, the former Chicago Bulls star has still managed to keep himself in the news. Now Rodman is making headlines yet again with the announcement of his signature brand of vodka dubbed, "The Original Bad Ass Premium Vodka."
According to his website, this new spirit is a "six-times distilled, all-American made premium vodka to really get the party started! With Dennis Rodman being the perfect representative for a wild night out and a great party, our vodka makes sure you won't be disappointed when you're living it up!"
The vodka itself is 80-proof and contains 40 percent alcohol.
And somewhat unsurprisingly, Rodman feels his new product would be the perfect broker of peace between the United States and North Korea.
"Everyone knows (President Barack) Obama drinks beer," Rodman said in an interview with USA Today. "But you know what? I'm pretty sure he does have a cocktail here or there. I'd love to see him with a 'Bad Ass Vodka' shot in his hand, toasting to Kim Jong (Un) and me. That would be awesome."
"Just think, it's up to Dennis Rodman to break ground with North Korea," he said. "I'm the only one in the world who will go talk to this guy and try and find some common ground with these people. I'm hoping that gap between America and North Korea can close."
Oh, Dennis. That's why we love you.