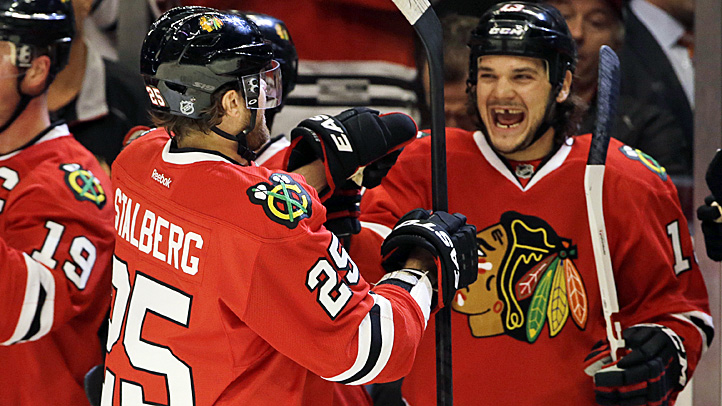 Brent Seabrook scored on a 2-on-1 break at 3:23 of overtime and the Chicago Blackhawks extended their NHL-record, season-opening point streak to 21 games with a 4-3 win over the Columbus Blue Jackets on Friday night.
Jonathan Toews carried the puck down left wing and dished a cross-ice pass to Seabrook, who fired in a shot from the right circle before goalie Steve Mason could slide across the crease.
Patrick Sharp and Bryan Bickell scored 59 seconds apart late in the second period, and Viktor Stalberg also connected in regulation for Chicago (18-0-3), which won its eighth straight overall and has earned 39 out of a possible 42 points this season.
Ray Emery made 19 saves for the win.
Ryan Johansen scored with 7:37 left in regulation to tie it at 3 for Columbus, snapping his 37-game goal drought. Vinny Prospal and Artem Anisimov also had goals for injury-depleted Columbus (5-12-4), which has a league-low 14 points.
Vinny Prospal and Artem Anisimov also had goals for injury-depleted Columbus (5-12-4), which has a league-low 14 points.
The Blackhawks posted their 10th consecutive win against the Blue Jackets, dating to Feb. 18, 2011. Chicago also has a point in its last 26 regular-season games since a regulation loss on March 25, 2012, to Nashville.
Mason stopped 31 shots as he faced the Blackhawks for the second time in less than a week. He made 26 saves in a 1-0 loss to Chicago on Sunday.
Anisimov scored in his first game after he missed three because of an upper-body injury. He was hurt in Detroit on Feb. 21 when his head struck the ice.
Columbus has lost seven of eight, with all but one of the defeats by one goal.
Emery relieved Corey Crawford after the first period in St. Louis on Thursday as the two combined to shut out the Blues 3-0. Crawford was forced out by an upper-body injury.
Crawford was back on the bench Friday, serving as Emery's backup.
The Blue Jackets were again without centers Brandon Dubinsky (knee) and Derick Brassard (upper body) and defensemen Jack Johnson (shoulder), James Wisniewski (broken foot) and John Moore (upper body). Moore was injured Friday during Columbus' morning skate.
Prospal gave the Blue Jackets the lead just 31 seconds into the game.
Emery made a glove save on Derek Dorsett's drive from the right circle, but knocked the rebound into the slot. Prospal swooped in and fired the loose puck into the open net before Emery could react.
Stalberg tied it with 3:51 left in the first when he scored a power-play goal from the edge of the crease. Battling in a scrum, Stalberg converted a rebound of Brandon Saad's shot.
Anisimov put Columbus back ahead with 7:18 left in the second on a screened shot from the right wing. His shot appeared to glance off of Chicago's Daniel Carcillo before getting past Emery.
Mason came up with several tough saves, but was fooled when Sharp tied it at 2 with 2:40 left in the period. Sharp cut down the left wing and shoveled a backhanded shot from a sharp angle that struck Mason's blocker and slipped through.
Less than a minute later, Bickell put Chicago ahead 3-2 on a 2-on-1 with Stalberg.
Columbus' Mark Letestu and Matt Calvert, and Chicago's Jamal Mayers all fired shots off the post early in the third.
Johansen scored his first goal since Jan. 24, 2012, with 7:37 to make it 3-3. Following a failed clearing attempt, Johansen took a pass from Nick Foligno, broke in alone and slipped a backhander past Emery.
Mason made two point-blank blocker saves on Stalberg with 2:55 left to keep the game tied.