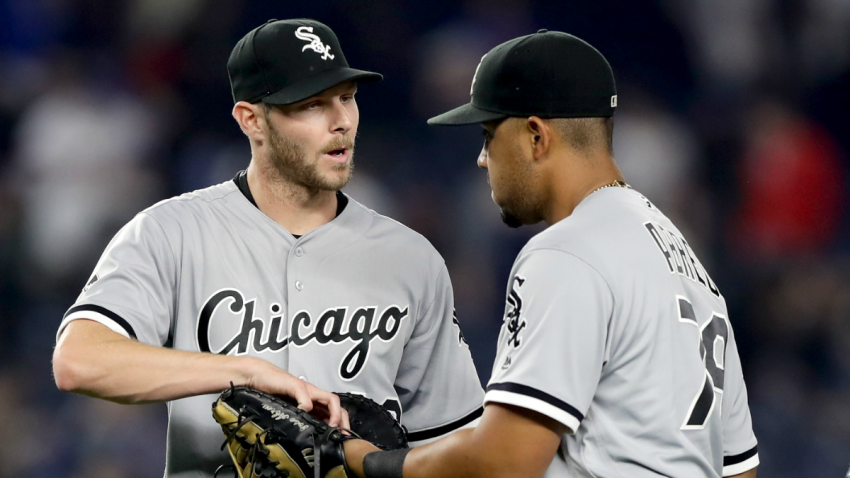 The Chicago White Sox are a team in search of a path forward after yet another disappointing season in 2016, and as baseball's Winter Meetings get underway in Washington, D.C., most of the focus seems to be on what they can do to get better not just for 2017, but for many seasons to come.
With that in mind, the team is listening to offers on any number of players, including some of the most talented players on their big league roster. That group includes ace pitcher Chris Sale, who could command one of the biggest trade hauls in recent memory if the White Sox end up deciding to trade him.
So which players could be sent packing from 35th and Shields after this week? Here's a look at five potential candidates that could be among those the White Sox trade in a quest to replenish their farm system and prepare for a brighter future.
Jose Abreu
It surprised no one when Abreu opted out of the final three years of his contract with the White Sox, giving him the right to go into arbitration for a higher payday in the process. The Sox could conceivably sign him to a long-term deal and keep him around, but going into a season where he will turn 30 years old, there is also a case to be made that trading him could net them a good haul of prospects.
After all, Abreu is a power hitting first baseman in a league where that is one of the requirements to be a successful organization, and while not a lot of contenders are looking for that player on their roster, a team trying to jump into that contender echelon could look at Abreu as a good starting point.
Adam Eaton
While Eaton is under team control on a very friendly contract for the next five years (three years of full control, and two years of options), his name has been floated by some baseball insiders as one that the White Sox could conceivably move if they get a mind-blowing offer for him.
Even with that being said, it may just make more sense for the Sox to hold onto him at this point. He was a Gold Glove nominee in right field and is a top of the order threat in a sport where that type of player is becoming more and more difficult to find, and with a good amount of time left on his contract, he could be around when the White Sox are contenders again.
Todd Frazier
Frazier is under team control for one more season, and if a team is looking at a win-now situation and needs a corner infielder, then Frazier could be an excellent candidate to trade for.
One team that could consider making a run at Frazier would be the Los Angeles Dodgers, as they're currently trying to re-sign free agent third baseman Justin Turner. If they are unable to come to terms on a deal with him, a one-year pact with Frazier could be an excellent alternative, as the team is going to look to shed salary before they go into an absolutely hellacious luxury tax situation following the 2017 season.
David Robertson
The market for closers this year is stacked with talent, as guys like Mark Melancon (who reportedly has agreed to a contract with the San Francisco Giants), Aroldis Chapman, and Kenley Jansen are all available as free agents.
With that kind of talent commanding insanely high price tags, there is certainly a good opportunity for a team to trade away a closer on a more reasonable contract, and although Robertson is due a total of $25 million in the next two seasons, his deal would actually qualify as "reasonable." If Jansen and Chapman get snapped up at the meetings, players like Robertson and Kansas City's Wade Davis could be very attractive options and net some nice returns for their respective teams.
Chris Sale
Here is the big one, and White Sox fans certainly have very strong opinions on whether or not the team should deal Sale. After all, there is only one other lefty pitcher in the game that can match Sale in terms of sheer dominance (Los Angeles' Clayton Kershaw), and it's almost impossible to find an ace pitcher of his quality and at his reasonable price tag.
Because of that, the White Sox are going to tread very carefully with Sale, and they will only trade him if they get a ridiculous amount of value back. If he gets traded to a place like Atlanta, he would only go if star shortstop Dansby Swanson was included in the package. If he gets traded to Boston, players like Jackie Bradley Jr. and Andre Benintendi would certainly have to be part of the mix.
There are plenty of other teams potentially involved, including the Washington Nationals and Houston Astros, but the White Sox are going to have to think long and hard about whether to trade Sale or not. Prospects don't always pan out, and although they'll certainly be able to demand a Major League player or two as part of any deal, getting back appropriate value for a player of his quality is going to be difficult.