With the wild card game just around the corner, Cubs fever has swept across Chicago, from shows of superstition to shows of pride.
Here are eight ways Chicago has proved it has the fever.
1. The Brachiosaurus outside the Field Museum proudly sports a Cubs jersey to cheer on the team.
2. City Hall flies the "W."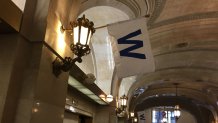 3. Giordano's created a special Cubs-inspired "Fly the W" deep-dish pizza.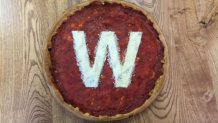 4. Clark the Cub surprises fans around Chicago Tuesday with free swag, "W" flags and Chicago gear.
5. Wrigleyville bar Merkle's becomes "The Pink Flamingo" for Joe Maddon's pleasure.
6. Dunkin' Donuts locations in Chicago offer "W" doughnuts to Cubs fans with a sweet tooth.
7. Competitive eaters and owners of the Lincoln Square restaurant Taco in a Bag devour an entire 40-pound goat in an attempt to break the Cubs curse.
8. Lastly, Joe Maddon has been made into a collectible bobblehead, complete with his signature blue hoodie.