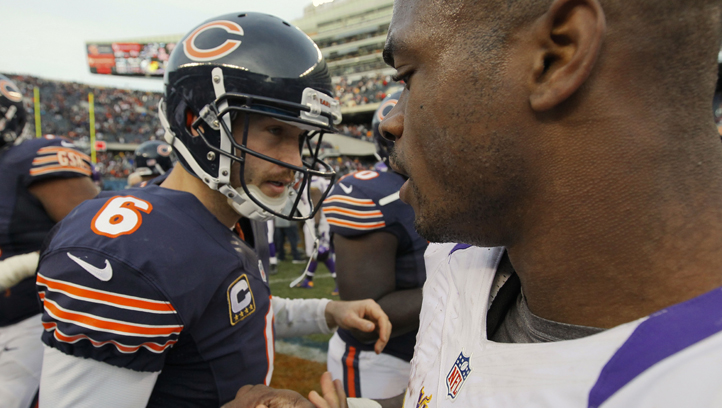 Adrian Peterson is putting up MVP numbers these numbers, and the Bears aren't afraid to lavish him with praise.

"He's running crazy," linebacker Nick Roach laughed. "It's fun to watch."

Peterson, the NFL's leading rusher, has nearly 1,500 yards during 12 games this season. weakside linebacker Lance Briggs says "A.P." is a great player that raises your level of play.

"He gets tackled and he's looking for the next time to get the ball," Briggs observed. "I want the ball, again, again, again, again! He's pretty relentless."

"Adrian Peterson is having an MVP type of year," Briggs added. "There hasn't been a defense that has really completely shut him down."

Just two weeks ago at Soldier Field, Peterson had 108 yards rushing against the Bears. He's had 947 yards rushing the past six games alone, more than eight other NFL RBs have racked up all season.

Roach says Peterson can do it all.

"He runs over guys, runs around them, makes them miss," he said. "His effort is extremely high."

With an average of over 150 yards the past six games, Peterson is on pace to do something only seven other NFL RBs have ever done: rush for 2,000 yards in a season.

He wants to be the best to ever play the game. The Bears know come Sunday, they'll have to beat the best.