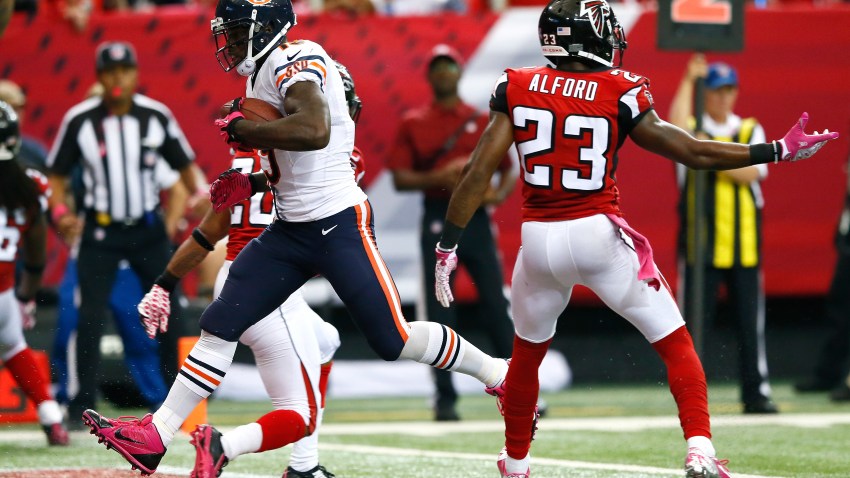 Offense: A-
In what was arguably their most complete performance of the season, the Chicago Bears racked up 478 total yards of offense against the Atlanta Falcons on Sunday, and their ability to mix the run and the pass ended up paying dividends as they snapped their two-game losing streak.
A lot of attention will be paid to Jay Cutler, and rightfully so after he threw for 381 yards in the game. What people really should focus on is this element of the game: Brandon Marshall and Alshon Jeffery, used mostly as decoys and short-yardage guys as they recovered from leg injuries, were both making plays downfield, both with their speed and with their vertical ability.
Add to that the fact that the Bears' run blocking looked really solid in the game, and you have a recipe for success that the team will look to cook over and over again.
Defense: B+
Holding the Falcons to under 300 yards is a pretty solid achievement, but it was the variety of ways in which they kept Atlanta in check that earned the defense this grade. When Matt Ryan would drop back to pass, Bears' defensive linemen often got into his face and forced throws, with four sacks to their credit. When Steven Jackson and Devonta Freeman would attempt to run, guys like Stephen Paea would be there to greet them.
No matter what the Falcons threw at the Bears, Chicago seemed to repel it. Holding Atlanta to 13 points at home is a big achievement for a team that has looked really shaky against both pocket passers (Aaron Rodgers) and mobile quarterbacks (Geno Smith, EJ Manuel) alike. Doing so without their top four linebackers and without safety Chris Conte speaks volumes to the improved depth that this team has, and they earned their paychecks in this one.
Special Teams: C-
Unfortunately for the Bears, not all of the news was good on Sunday. With several penalties, poor return decisions by Santonio Holmes and Chris Williams, and a blocked extra point, the special teams phase of the game once again proved to be more of a liability than an asset.
The one good thing that the team did in the game was that they kept former Bears standout Devin Hester in check. Hester did have one return of 26 yards in the game, but he averaged just five yards per punt return and 22 per kick return in the game, and most importantly of all, he wasn't able to give his team the kind of field position that puts the pressure on an opposing defense.
The Bears' coverage game is pretty sound by this point. If their return game can't step it up though, they could be in trouble as the season wears on.