Linked to our post about the Hawks lineup changes, maybe we should be grateful that we don't have to worry about the Hawks making changes like the St. Louis Blues do.Whereas the Hawks are merely trying to jumpstart an ever-so-slightly stumbling good team, the Blues are trying to overhaul everything to get any type of result. It's clearly the worse position to be in.
On Sunday, while Hawks fans were claiming that Andrew Brunette and Steve Montador and Viktor Stalberg were the reasons their kids failed chemistry or something equally ridiculous after just one bad night without their best defenseman, the Blues were making an admission that their team was failing and fired their coach, Davis Payne. They replaced him with veteran NHL whip-cracker Ken Hitchcock, and all the young players on St. Louis who had walked all over Payne probably had a warm liquid running down their leg.
Hitchcock would be the opposite of a players coach. He's not even the same sport as a players coach. No one has a redder behind, or a larger one, than Hitch. He hates young players, suffers no silliness, and demands tight discipline. How he fits in with a team that's had a serious discipline problem is going to be the new ABC sitcom.
Hitch's preferred method of playing would also seem to be at odds with the Blues players. Hitch likes the old-school trap, with four players in the neutral zone to choke the life out of the opposing team, crowd, anyone watching on TV, and most of the metro area of where he lives. The Blues have been built to forecheck heavily and aggressively and try and cause mayhem down below the goal line. They have a bunch of forwards who are good at that. Whether they can adjust to Hitch's preferred way of playing, or whether Hitch can adjust his normal plan, we'll just have to see.
What's clear is that the Blues need structure so they can find out exactly who is important and who isn't. Hitchcock can do that.
So this is now an even tougher test for the Hawks. The Blues always consider their home games against Chicago the biggest of the season, and always give their best effort. And now they have a new coach to impress. And the Hawks haven't always wanted to match that intensity in Missouri. After Sunday's loss, one would think motivation won't be a problem. But this is going to be an awfully high energy level to match.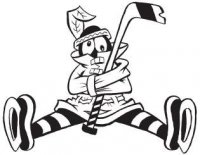 Sam Fels is the proprietor of The Committed Indian, an unofficial program for the Blackhawks. You may have seen him hocking the magazine outside the United Center at Gate 3. The program is also available for purchase online. Fels is a lifelong 'Hawks fan and he also writes for Second City Hockey .