With the greater microscope power that comes with any Cubs-Sox series, things tend to get overblown. After all, these are just three games out of 162 (not even 2% of the season), no matter what the passion may be (or may not be).
But we did see some things that we can look forward to the rest of the year.
-As I speculated, this whole City Series thing has probably outlived its usefulness, or at least it can no longer overcome the middling-at-best performances of both teams. None of the games sold out, which would have been unheard of in years past. On top of that, none of the games seemed to have the bloodlust passion of past games. Usually, the crowd's noise and fever bleeds through the television. All of these games felt like just another game in June, with few spikes in the EKG meter. Granted, none of these games were wild, with only one game having any late-inning fireworks. But it's clear that Sox fans are waiting for their team to get back to .500 and in contention in the AL Central, while Cubs fans are just....well, pretty much done with this team.
-It's hard to judge Mike Quade, because of injuries and an overwhelming supply of boobs on his team. But last night was a visible error on his part that cost his team at least a chance at extra-innings. With The Flash impersonator Tony Campagna on third with one out, and Koyie Hill at-bat, there was no excuse for not trying a squeeze there. Hill would have as much chance of getting a hit if he brought uncooked pasta to the box instead of a bat if he's facing a barely upright pitcher. Campagna's lightning speed means that a suicide squeeze isn't even necessary, as he would have the luxury of seeing the bunt get down before tearing down the line. But the other Coach Q declined, Hill struck out in weakest fashion possible, leaving Kosuke Fukudome to try and scratch out a two-out hit against a revitalized Matt Thornton. It all ended so predictably.
-Paul Konerko cannot keep the Sox afloat forever, but he's doing a fine job right now. Eventually, Rios or Dunn are going to have to hit. Rios might just starting to.
-Jake Peavy managed to walk Alfonso Soriano twice and Starlin Castro once in the same game. This might be his greatest accomplishment of the year.
-Speaking of Peavy, too much has been made of a minor spat between him and his catcher. Peavy always has a red streak where the sun don't shine, and will fight with a lot of catchers.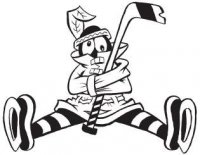 Sam Fels is the proprietor of The Committed Indian, an unofficial program for the Blackhawks. You may have seen him hocking the magazine outside the United Center at Gate 3. The program is also available for purchase online. Fels is a lifelong 'Hawks fan and he also writes for Second City Hockey .
Published at 5:57 PM CDT on Jun 23, 2011