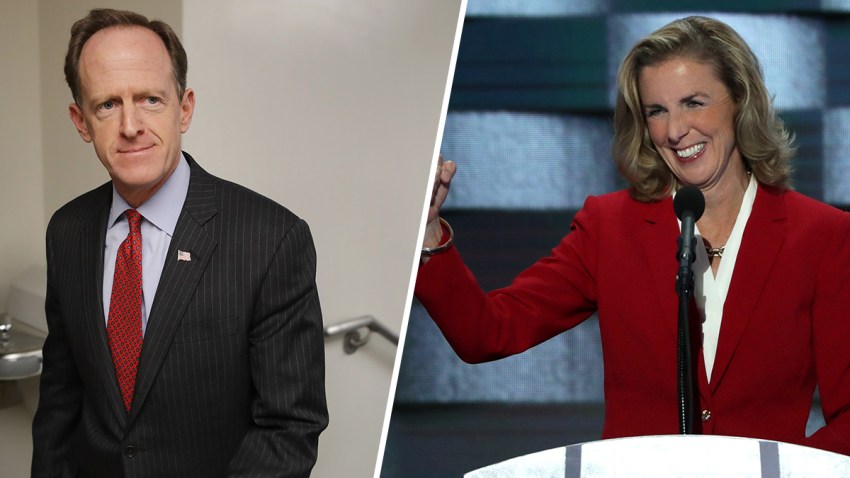 Deep-pocketed Super PACs are pouring tens of millions of dollars into key U.S. Senate races, outspending the candidates themselves in several states, according to an NBC analysis of Federal Elections Commission data.
Since January, Super PACs have spent just over $100 million in nine Senate races that are rated a toss-up by the nonpartisan Cook Political Report. Those nine races could determine control of the Senate: If Hillary Clinton wins the White House and Democrats flip four seats, the Democrats will control the Senate, with newly elected Vice President Tim Kaine breaking ties.
Those races are in Nevada, where Senate Democratic Leader Harry Reid is retiring, and for Republican-held seats in Florida, Illinois, Indiana, New Hampshire, North Carolina, Ohio, Pennsylvania and Wisconsin.
Super PACs, which can raise unlimited amounts for federal elections but can't coordinate with candidates, are focusing on four of those key races: Pennsylvania, Ohio, Nevada and New Hampshire. The other races, particularly Illinois and Wisconsin, where Republican incumbents are struggling to survive in Democratic-leaning states, are getting little attention.
"They're simply allocating to the most competitive races," said Larry Sabato, director of the Center for Politics at the University of Virginia. "Illinois is wasted money. Pennsylvania is highly competitive, and it's a very expensive state."
Republican incumbents Mark Kirk of Illinois and Ron Johnson of Wisconsin have been considered dead from the start, Sabato said. That's why the Super PACs are spending most of their money elsewhere.
"Ohio is supposed to be one of the most competitive races of the cycle so outside groups went in early and have been spending heavily," said Jennifer Duffy, senior editor at the Cook Political Report. "It has started to taper off as Democrats realize that they are too far behind to win."
Super PACs have spent $31 million in Pennsylvania this year, most of it for ads trashing one-term Republican Sen. Pat Toomey or his Democratic opponent, Katie McGinty.
That's five times more than Toomey and McGinty together spent on their own campaigns through June 30.
They've spent $29 million in neighboring Ohio – most of that to bury former Democratic congressman Ted Strickland, who is trying to unseat Republican Sen. Rob Portman.
Together Portman and Strickland spent less than $4 million through June 30.
Super PAC money began surging into the Senate contests in April, after Hillary Clinton and Donald Trump locked up the Democratic and Republican presidential nominations. Since then, with the exception of a single $50 million expenditure for Trump in June, most of the Super PAC money generally has flowed into Senate races.
"It isn't unusual that groups didn't start spending (on Senate races) until May," Duffy said. "That expenditures on Senate races is outpacing the presidential contest is unusual, but not surprising. Once it became clear that Trump was the GOP nominee, a lot of the establishment money went into saving the Senate majority."
Republicans Super PACs are dominating the spending spree. Through the end of August, Republican-leaning groups spent $67 million supporting GOP candidates and attacking Democrats in the toss-up races. Democratic groups spent $36 million.
They've spent most of that money, about $8 of every $10, opposing the enemy rather than supporting friendly candidates.