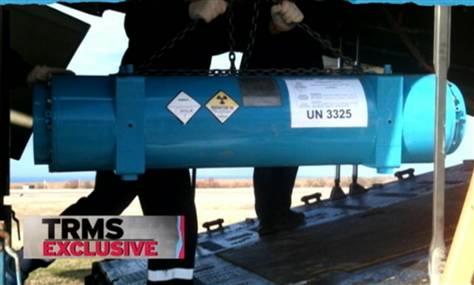 WASHINGTON - The United States has helped Ukraine return two atomic bombs' worth of highly enriched uranium to Russia during a secret operation over the Christmas holiday, the Obama administration confirmed Thursday on msnbc's The Rachel Maddow Show.
The removal of more than 111 pounds of highly enriched uranium followed a pledge by Ukrainian President Viktor Yanukovych to get rid of all of his country's highly enriched uranium by April 2012.
"The Ukraine, they recognize they're part of the international community, they recognize how dangerous this material is," Thomas D'Agistino, head of the National Nuclear Security Administration, told Maddow.
The material will be blended down in Russia, rendering it useless for bomb making, the Associated Press said.
Yanukovych agreed to give up the uranium in a 46-nation deal announced at a nuclear security summit hosted by President Barack Obama in April.
On Dec. 22, 28 pounds of Russian-origin highly enriched uranium spent fuel was removed from the Vinca Institute of Nuclear Sciences in Serbia, making that nation the sixth country to eliminate all of its stockpiles of the material since April 2009.
"The fewer places this stuff is at the better off the world is," D'Agistino told Maddow.
Copyright MSNBC - MSNBC