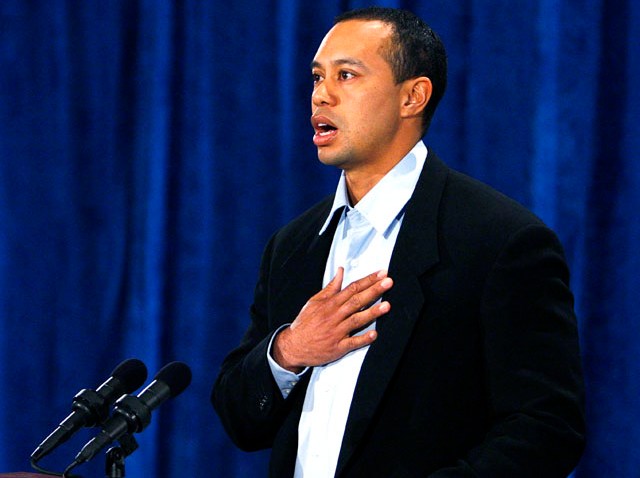 Tiger Woods made a lengthy public apology on Friday morning, but was he sincere?
"Tiger ate a big bowl of stink and I think he is sincere and apologetic!" Melissa Joan Hart Tweeted. "I liked that he apologized 2parents whose kids were looking up 2 him.I was counting on him as a role model for my boys so that was big 2 me!"
And singer Mandy Moore Tweeted, "very honorable words from tiger woods. good for him……"
"TW acknowledged his deplorable behavior, apologized to his wife, sponsors & fans & took ownership of the mess HE made… Now if we could only get the women who slept with TW to shut the hell up," Star Jones added on her Twitter page. "Crawl back into the tramp whole you crawled out of and fade out."

Even a late night host, Craig Ferguson, showed Tiger some sympathy.

"Watched the Tiger Woods apology. Sheesh. Now a 3 day media s***storm of jerks analysing it. Feel bad for his family though," he Tweeted.

But other celebs were less supportive – using the situation as an opportunity for comedy.

"Tiger Woods and I are soulmates," Joan Rivers Tweeted. "At the moment I was being bounced off a plane in Costa Rica, he was being bounced off a hooker in Miami."

Olivia Wilde Tweeted a link to a satirical article by The Onion – "Tiger Woods Announces Return To Sex."

Even "Jersey Shore" stars Snooki and DJ Pauly D got in on the action, with Pauly Tweeting "Can't believe Tiger Woods is in My Sex Rehab Class … Soo Cool," to which Snooki responded, "Lmaoooo."

Other stars turned to sarcasm to get their points across.

"So glad Tiger cleared that up – I wasn't sure who to blame," Jewel Tweeted, re-Tweeting an ESPN reporter who Tweeted, "So.. I learned that we shouldn't blame Elin. Phew."

What did you think of Tiger's apology? CLICK HERE to vote in the AH Nation poll!


Related Content from AccessHollywood.com:
VIEW THE PHOTOS: On The Scene: Tiger Woods' Car Crash (November 27, 2009)
PLAY IT NOW: Tiger Woods' Apology: 'I Am Deeply Sorry For My Irresponsible & Selfish Behavior'
PLAY IT NOW: Tiger Woods Set To Break His Silence (February 18, 2010)
MORE ACCESS ON THESE TOPICS: Tiger Woods - Athletes - Melissa Joan Hart - Mandy Moore - Joan Rivers
Copyright NBCAH - Access Hollywood