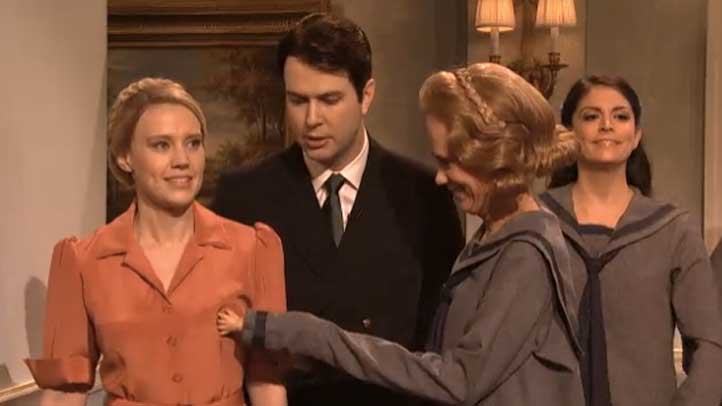 This week's "Saturday Night Live" was certainly star studded.
The show opened up with a parody of NBC's live, three-hour version of "The Sound of Music" that featured former "SNL" cast members Kristen Wiig (as her infamous "Dooneese" character) and Fred Armisen.
The bit ran through a "condensed" version of the musical that included a part where Wiig felt up Maria with her tiny, toy hands.
"Wasn't that wonderful and moving and still way too long for anyone to bear?" Armisen noted at the end of the sketch.
This week's host, comedy veteran Paul Rudd, had a packed stage during his monologue as well. After Rudd exclaimed he was so happy the show was going to be about him this time, and not the musical guests, the crowd full of teenage girls roared as boy band One Direction joined him on stage. (During Rudd's two other "SNL" hosting appearances, he was flanked by Beyonce and Paul McCartney.)
"It's okay Paul, you can do your comedy stuff and we'll just throw kisses," One Direction member Harry Styles said.
Soon after, Rudd got some back-up from former "SNL" cast member and "Anchorman 2" co-star Will Ferrell, as well as other "Anchorman 2" cast members Steve Carell and David Koechner.
While everyone eventually got along and sang the 1975 Starland Vocal Band classic, "Afternoon Delight," things between the "Anchorman" cast and One Direction didn't start off friendly. After Ferrell confused One Direction for '80s Puerto Rican boy band Menudo, Koechner and Carell had some fighting words of their own.
"Why don't you kids go sit on Santa's lap," Carell said to the band. "And ask him for some balls."
Rudd continued to play nice with One Direction later in the show in his portrayal of "Dan Charles," the band's biggest fan. The sketch saw him fighting young children for the attention of the band.
In other sketches, Rudd played an unpaid Huffington Post contributor on Al Sharpton's MSNBC talk show, as well as a much-skinnier and confident Santa Claus.
Ferrell and Koechner also appeared in another sketch later in the show as a bunch of drunken businessmen in a Chuck E. Cheese's sharing stories of the legendary "Bill Brasky."
On "Weekend Update" with Seth Meyers and Cecily Strong, the duo focused heavily on the continued issues with the HealthCare.gov website.
"President Obama this week urged millennials to sign up for insurance through the Affordable Healthcare Act, saying 'It's the responsible thing to do,'" said Meyers. "And then he threw up his hand for a high five that never came."
Musical guests One Direction performed "Story Of My Life" and "Tell Me Where It Hurts."
Next week's host will be actor John Goodman, with musical guest Kings of Leon.