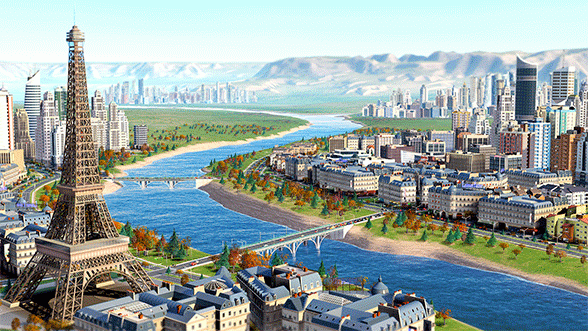 SimCity residents might have to put their city-building dreams on hold.
A reboot of the popular video game launched on Tuesday in North America and it has been rife with bugs and connectivity issues, leaving fanboys waiting for hours before they can begin building their cities. The game was released in Europe on Wednesday and in the U.K. on Thursday.
Gamers have taken to Electronic Arts' forum to air their grievances about overloaded servers, error messages and the unimaginable -- losing entire cities.
"That I can't play at 7am in the morning two days after launch because the servers are 'full' seems ludicrous" wrote one user on EA's forum.
Amazon temporarily stopped selling the digital version of the game. And while they continue to sell the boxed version, the online retailer is warning potential buyers of its issues.
"Many customers are having issues connecting to the SimCity servers," the note says. "EA is actively working to resolve these issues, but at this time we do not know when the issue will be fixed."
SimCity requires players to be connected online to play the game so they can share resources with other players. This is unlike other games where players can play portions of the game offline if there are Internet issues, according to USA Today. This feature also safeguards the company against software piracy.
The problem is exacerbated by the lack of resources needed to accomodate the surge of gamers logging on for a highly anticipated and popular video game, according to CNET.
SimCity is a simulation game where players, or "mayors," are tasked with building and maintaining a virtual city. The game was first launched in 1989 and has inspired different versions sold worldwide.
Senior Producer Kip Katsarelis issued a statement on the forum to assuage users lobbing complaints.
"We have been overwhelmed by the outpouring of support and enthusiasm from our fans which has made it even more upsetting for us that technical issues have become more prominent in the last 24 hours" he wrote on Wednesday. "We are hitting a number of problems with our server architecture, which has seen players encountering bugs, and long wait times to enter servers. This is, obviously, not the situation we wanted for our launch week and we want you to know that we are putting everything we have at resolving these issues."
But as of Thursday, the complaints kept pouring in with many asking for refunds and compensations in the form of additional special buildings.
"EA launched what was supposed to be one of the most anticipated games of 2013, and it doesn't even work properly," one person wrote. "Here's an idea: shut all servers down until you actually get it fixed, and those of us who have already purchased the game, compensate us with the European buildings pack upon actually getting the game to where it works."